The happy faces of these budget blooms will brighten your containers and borders. See all the ways you can incorporate them into your décor.
Dress Up the Front Door
These «Plentifall» pansies provide color through fall, winter, and spring. You can add to the show in early spring by slipping in pots of forced tulips and some chartreuse foliage, like tiger ferns and heucheras.
Go For Gold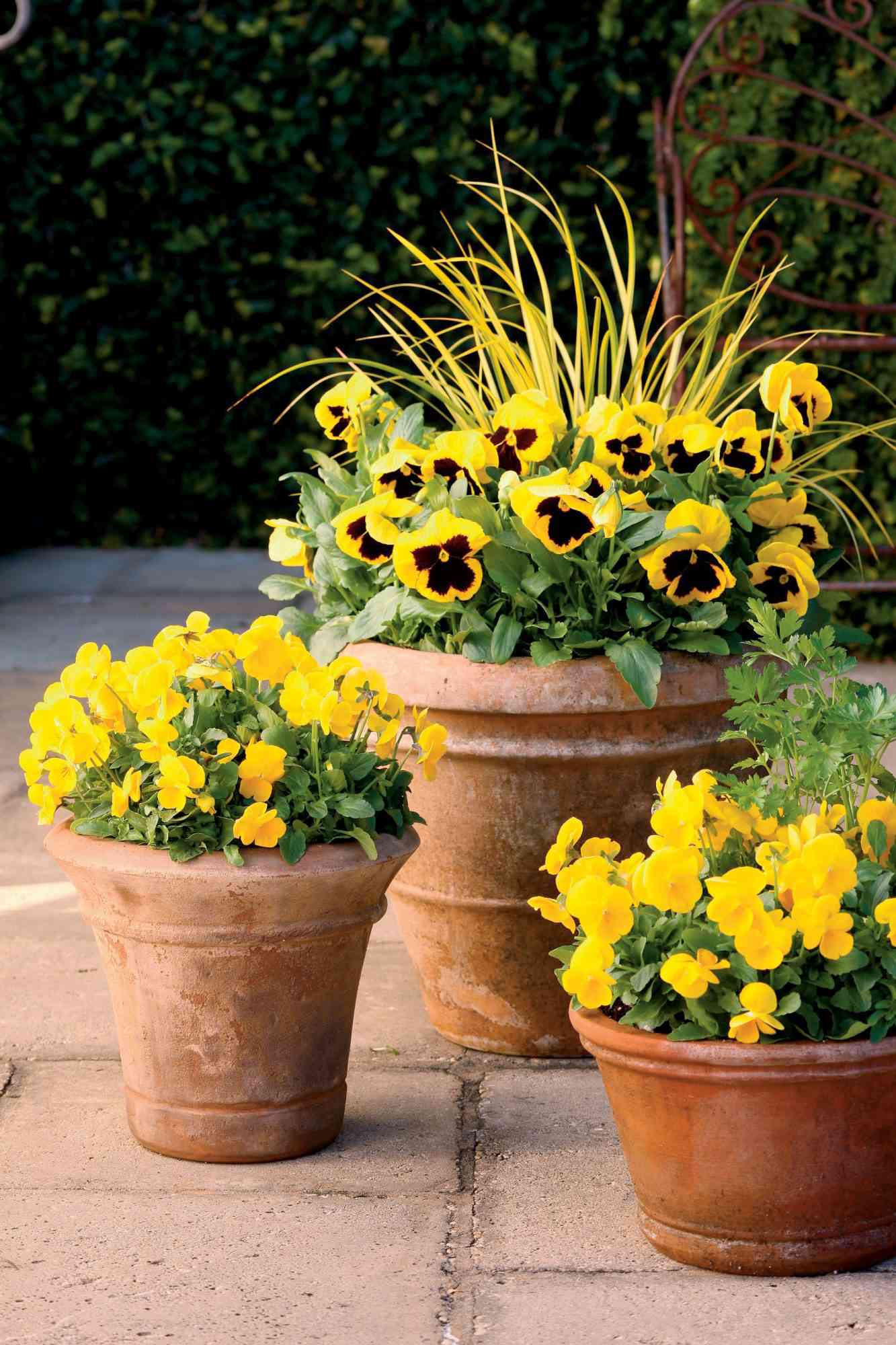 These bright blooms of «Ogon» golden sweet flag, «Matrix Yellow Blotch» pansies, and «Penny Clear Yellow» violas will make your pots and flowerbeds glow.
Flowering Jar Pansies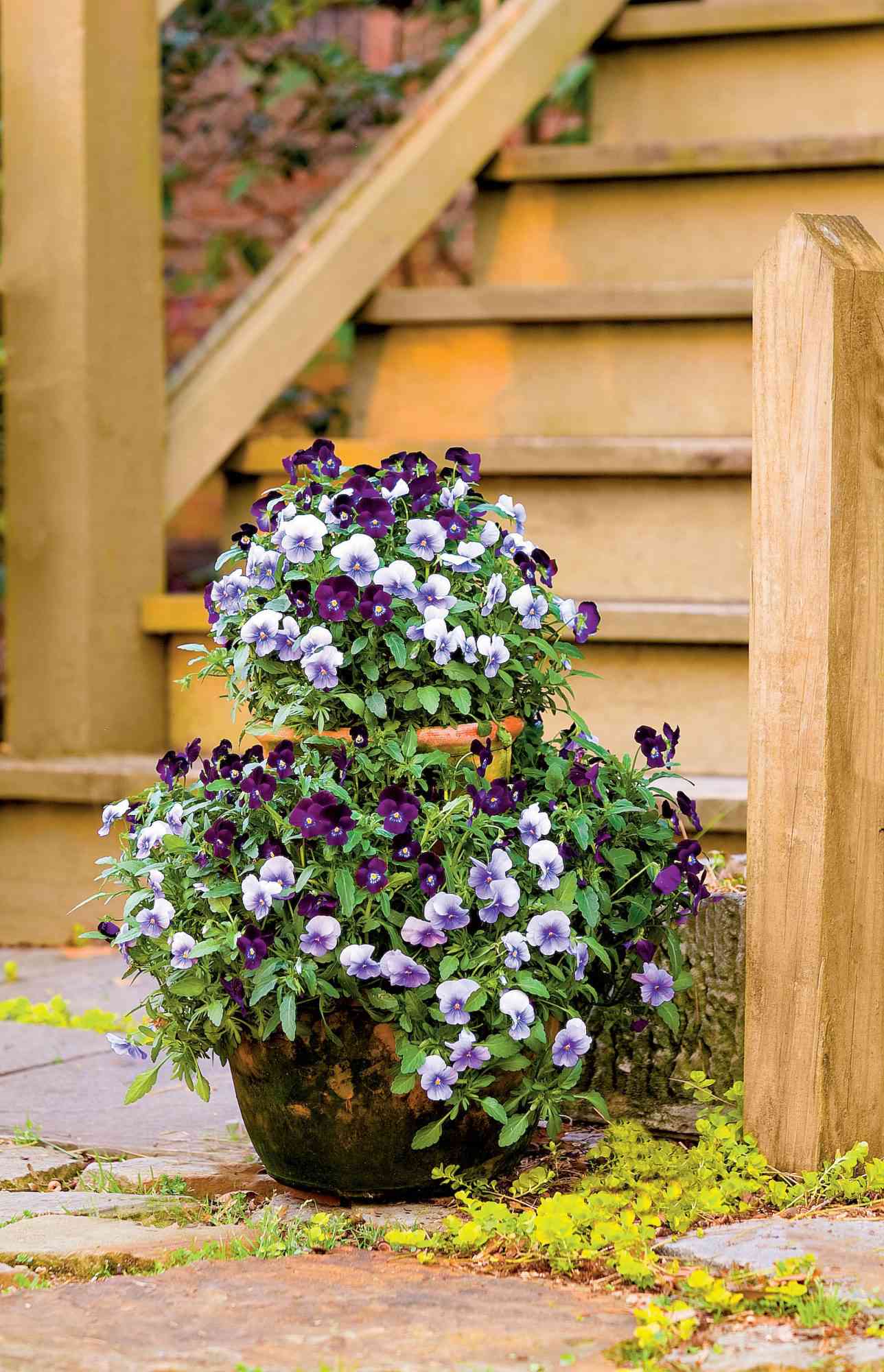 Create a beautiful container by using a jar with holes on the sides so that your pansies grow up and out.
Step 1: Start with a lightweight premium potting soil that contains a slow-release fertilizer.
Step 2: Add damp soil up to the first set of holes in the jar. Insert violas from cell packs.
Step 3: Add soil up to the next level of holes, and plant. Repeat until you've planted the whole jar. Water gently and enjoy!
Easy to Maintain Miniature Garden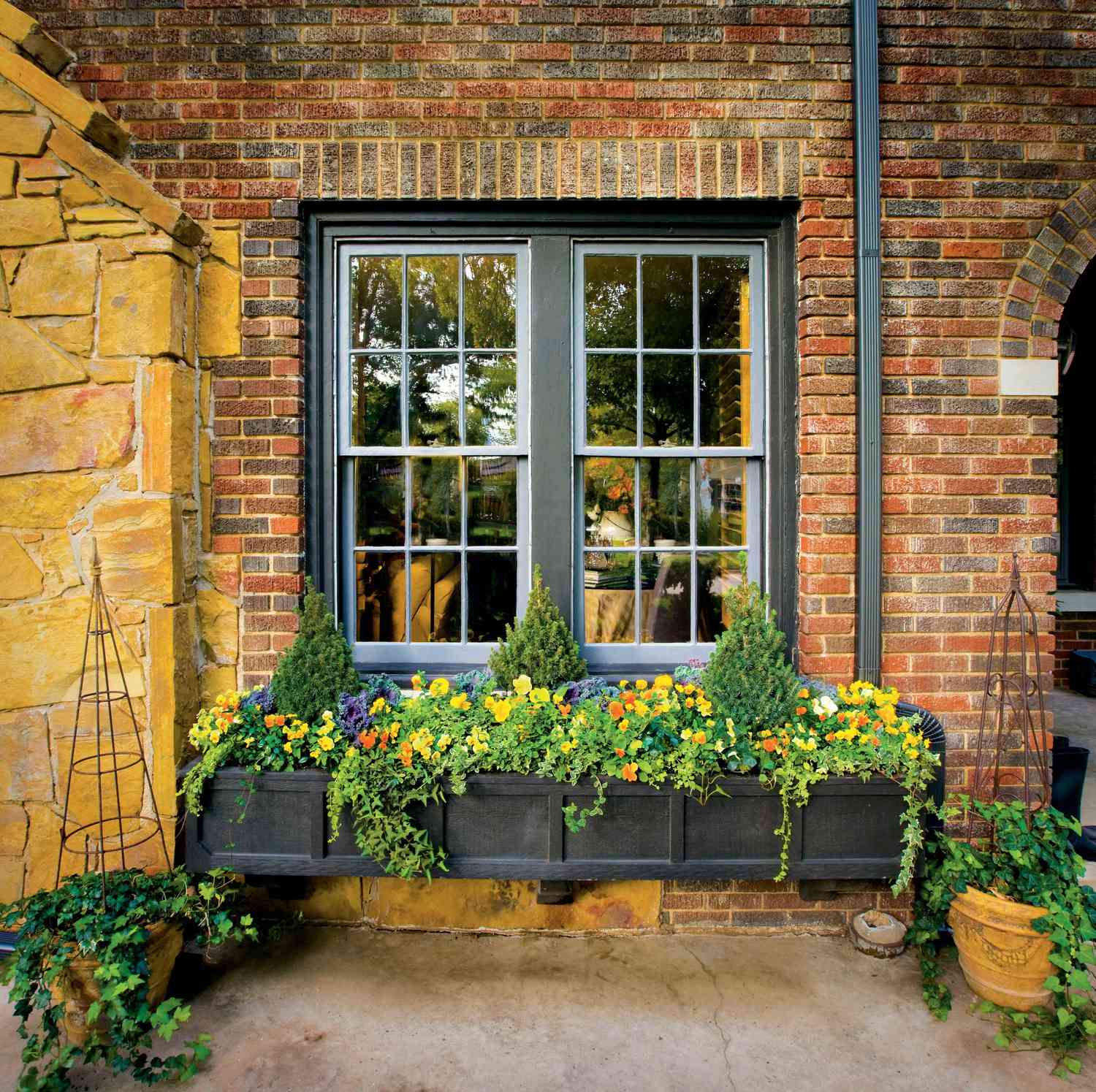 When filling a show-stopping window box, don't hesitate to use small evergreen shrubs or perennials, which last throughout the seasons. In the fall, turn to mums, kales, pansies, violas, and snapdragons for color, and then add a few daffodil or tulip bulbs for a pop in the spring.
See window box planting ideas
Step Up to Color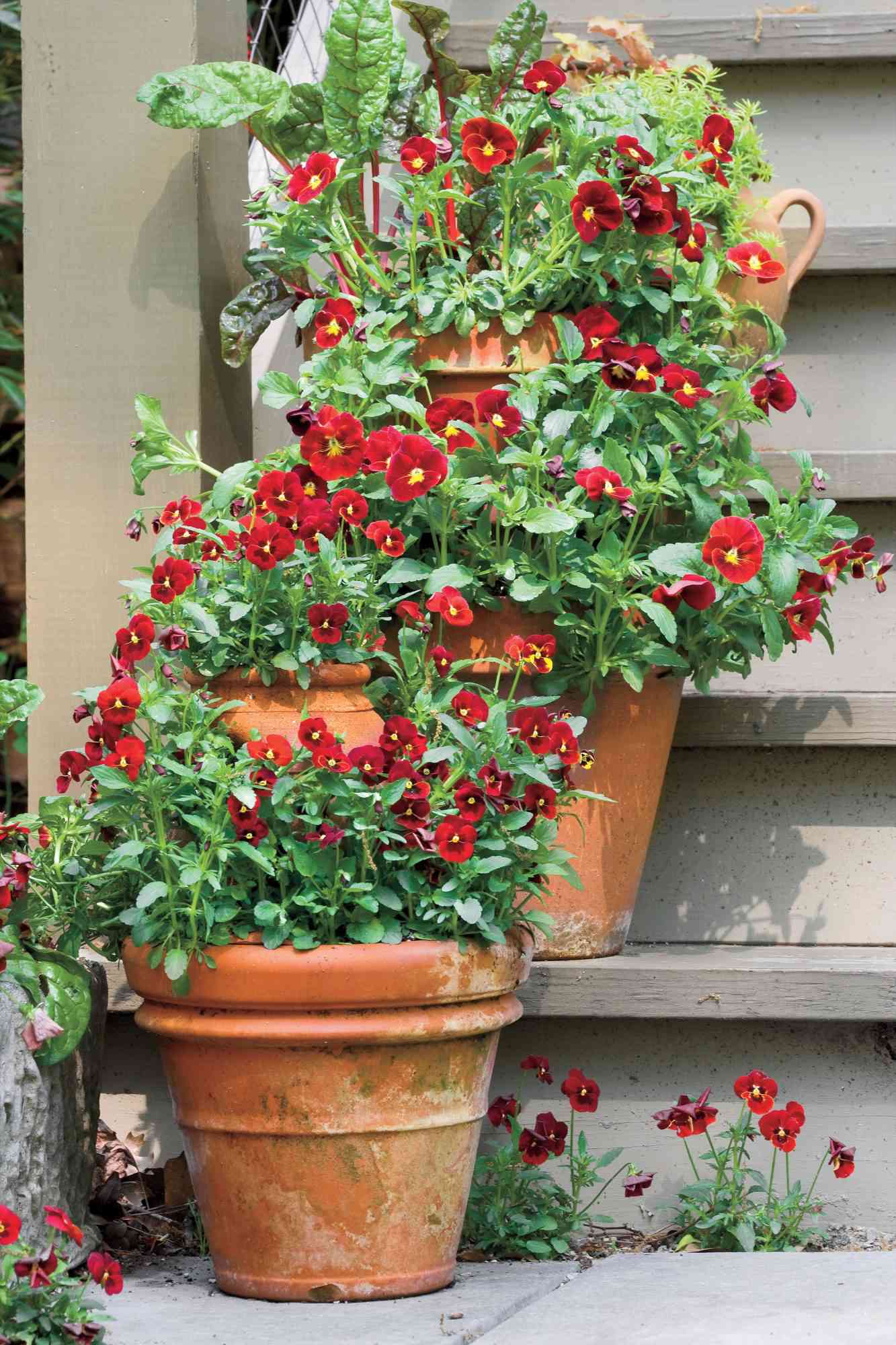 To dress up your entryway, tuck in a few pots along the steps with a simple color scheme. «Penny Red with Blotch» violas are the perfect, can't-miss color.
Balls of Blooms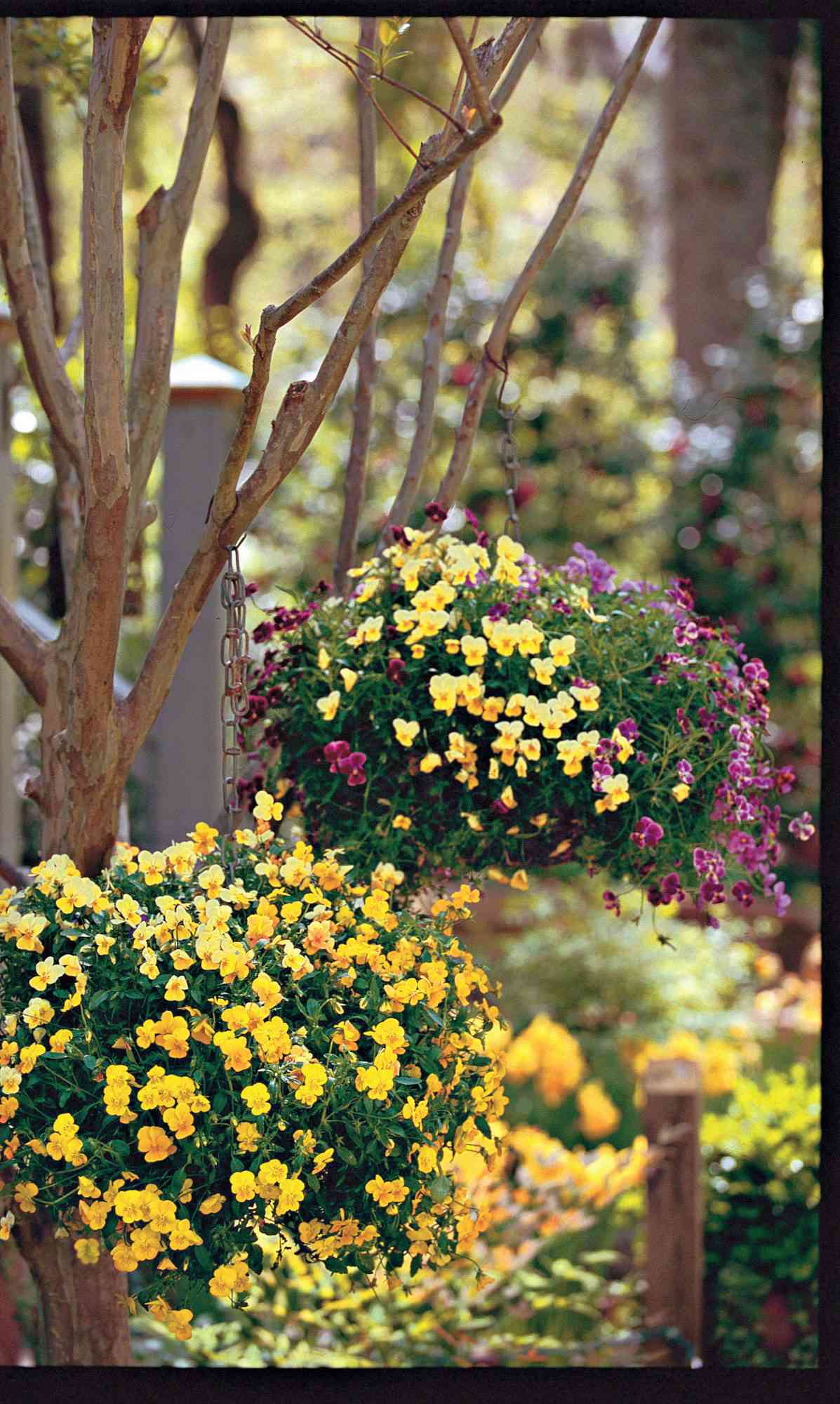 Create orbs of color with violas that love to bloom. Use sphagnum baskets and add viola plants along the sides, then top the container with more violas. Hang in a sunny location for more optimum splendor.
Perfect For Strawberry Jars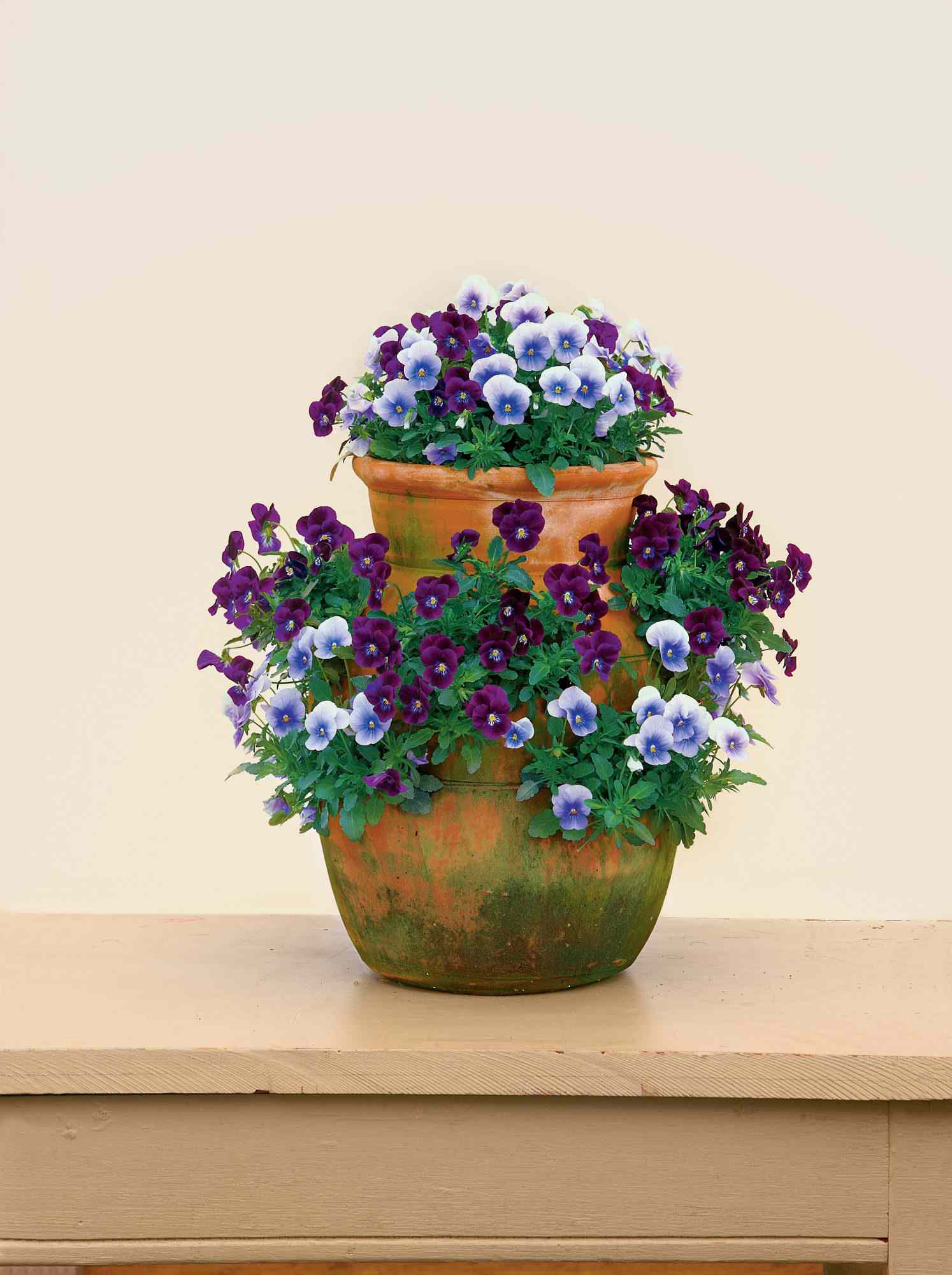 Give your violas a lift by planting them in strawberry jars. «Sorbet Plum Velvet» and «Sorbet Icy Blue» violas create an especially striking combination.
Hang Around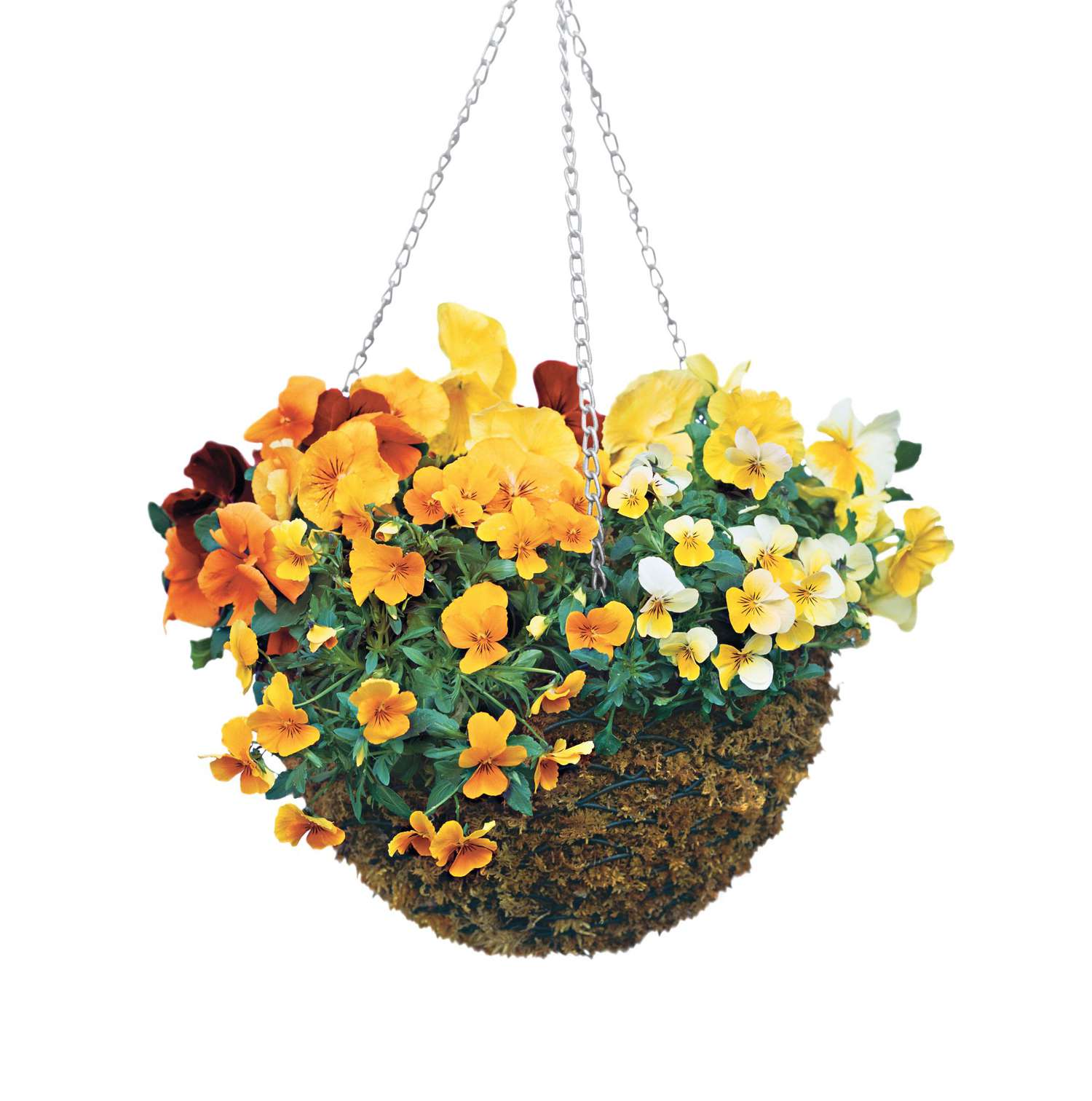 Choose a warm color palette to brighten the coming winter days. Here, a mixture of yellow and orange violas is planted with several yellow, orange and red pansies.
Pretty Pot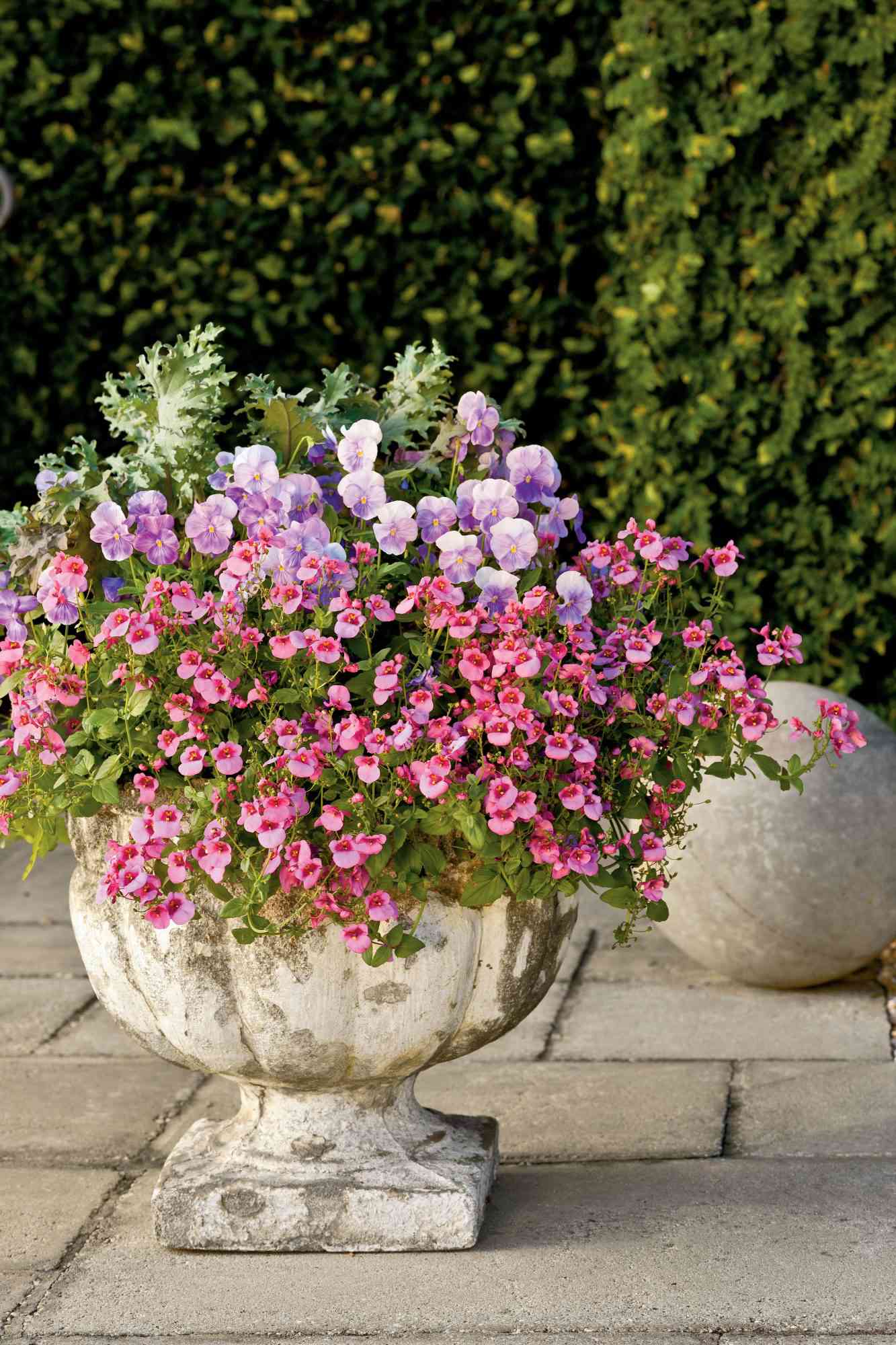 Use an antique, concrete urn and plant the prolific pink blooms of «Strawberry Sundae» twinspurs (Diascia hybrid) with «Penny Lavender Shades» violas and «Red Russian» kale.
Simple Combination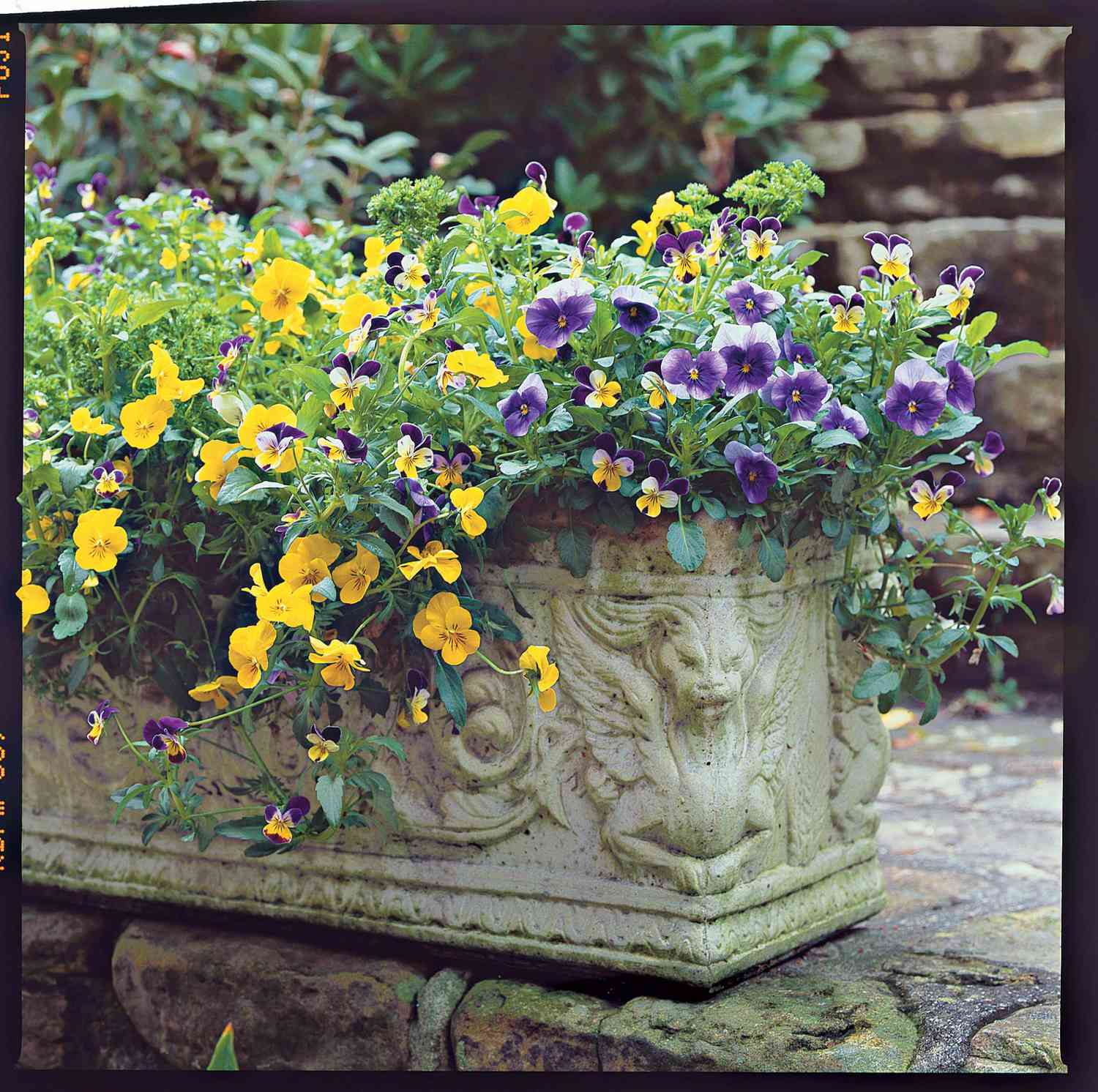 Pair yellow and purple violas with a cool-season herb such as curly-leaved parsley for an easy-to-care-for display.
Classic Green & White Palette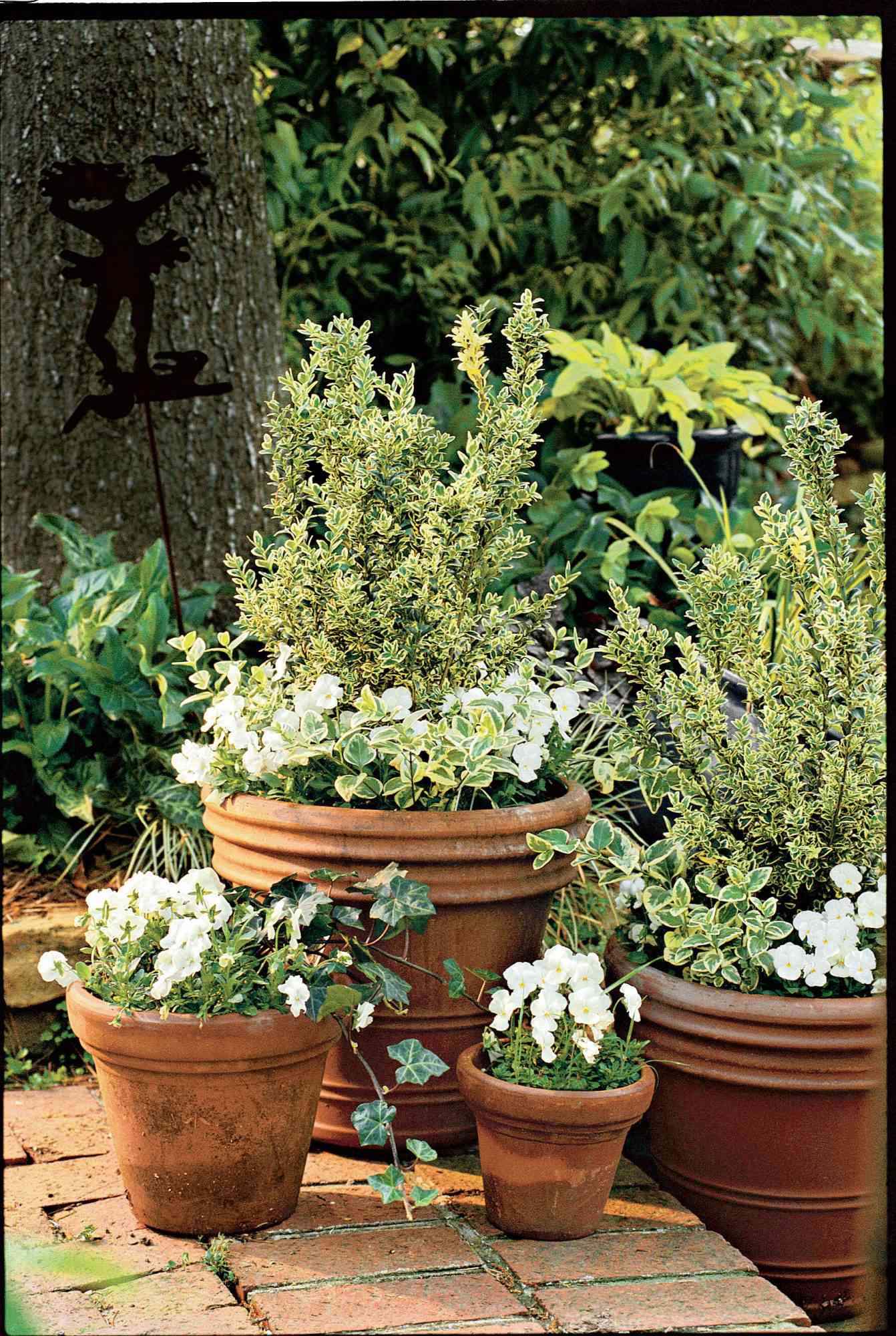 Pair variegated American boxwood («Elegantissima«) with white «Sorbet Coconut» violas for a classic look. Here, variegated periwinkle and English ivy also serve as green and white accents.
Warm Up Your Spring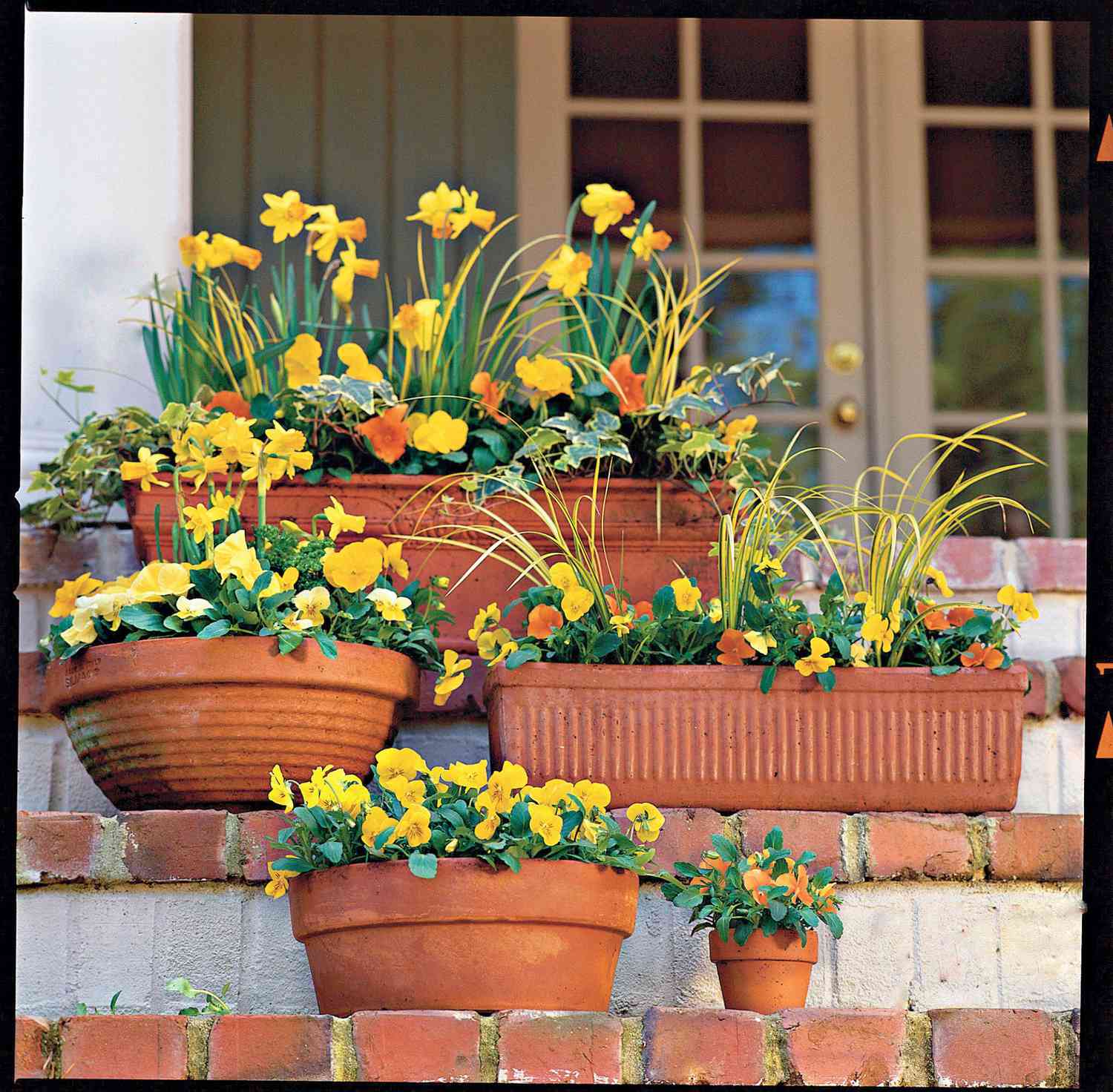 Add daffodil bulbs to your containers when you are planting your pots in the fall. Select smaller flowering plants for pots, such as «Jet Fire» and «Tete «e Tete.» Then, echo their warm hues with orange and yellow pansies and violas as well as «Yellow Ripple» English Ivy and Golden Sweet Flag.
Thriller, Filler, Spiller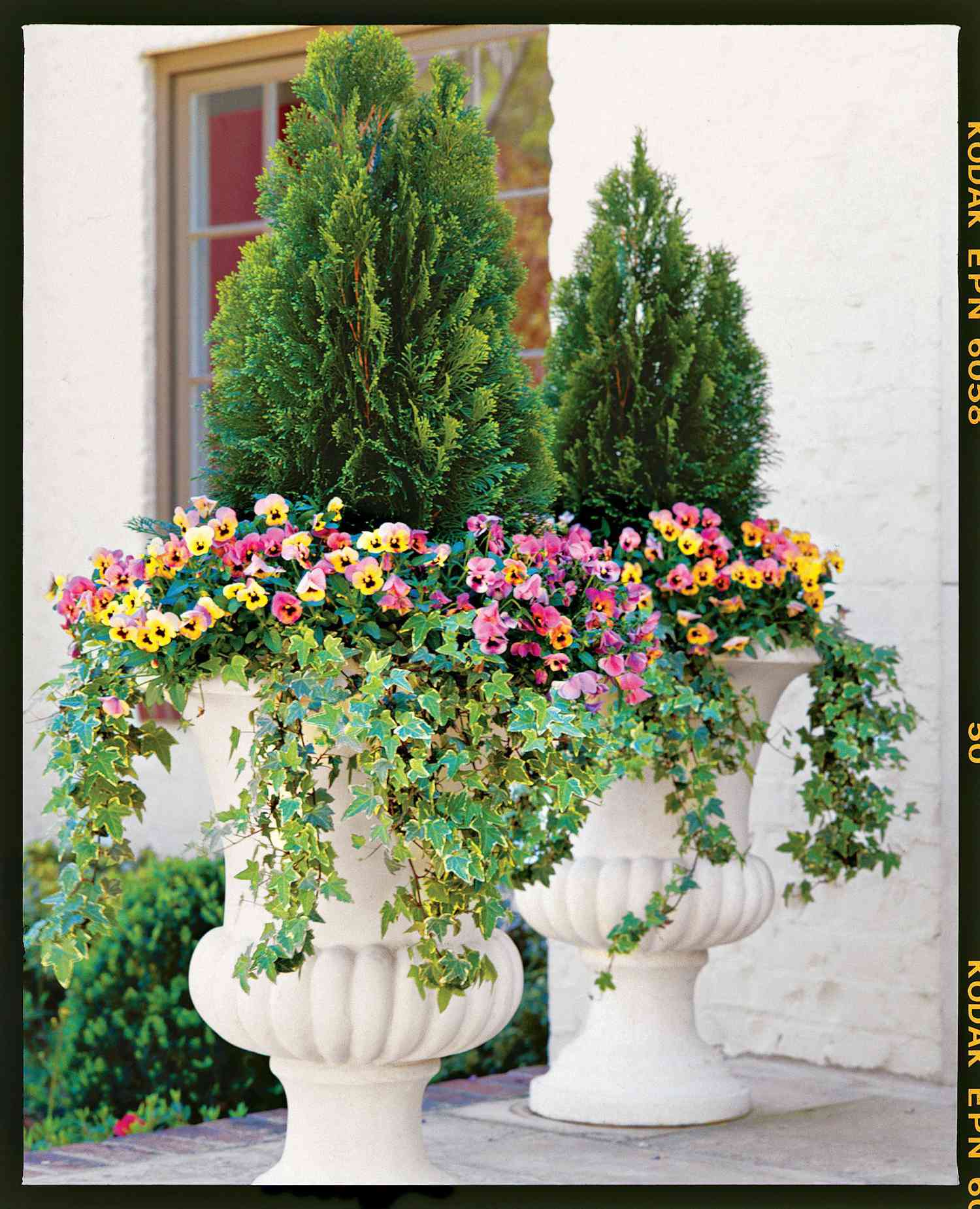 A cone-shaped, evergreen arborvitae works perfectly as an attention-grabbing thriller. To brighten up the look of your container, fill up the pot with multi-colored «Pandora's Box» pansies and have variegated English ivy spill over the sides for a dramatic visual.
Stacked Glazed Pots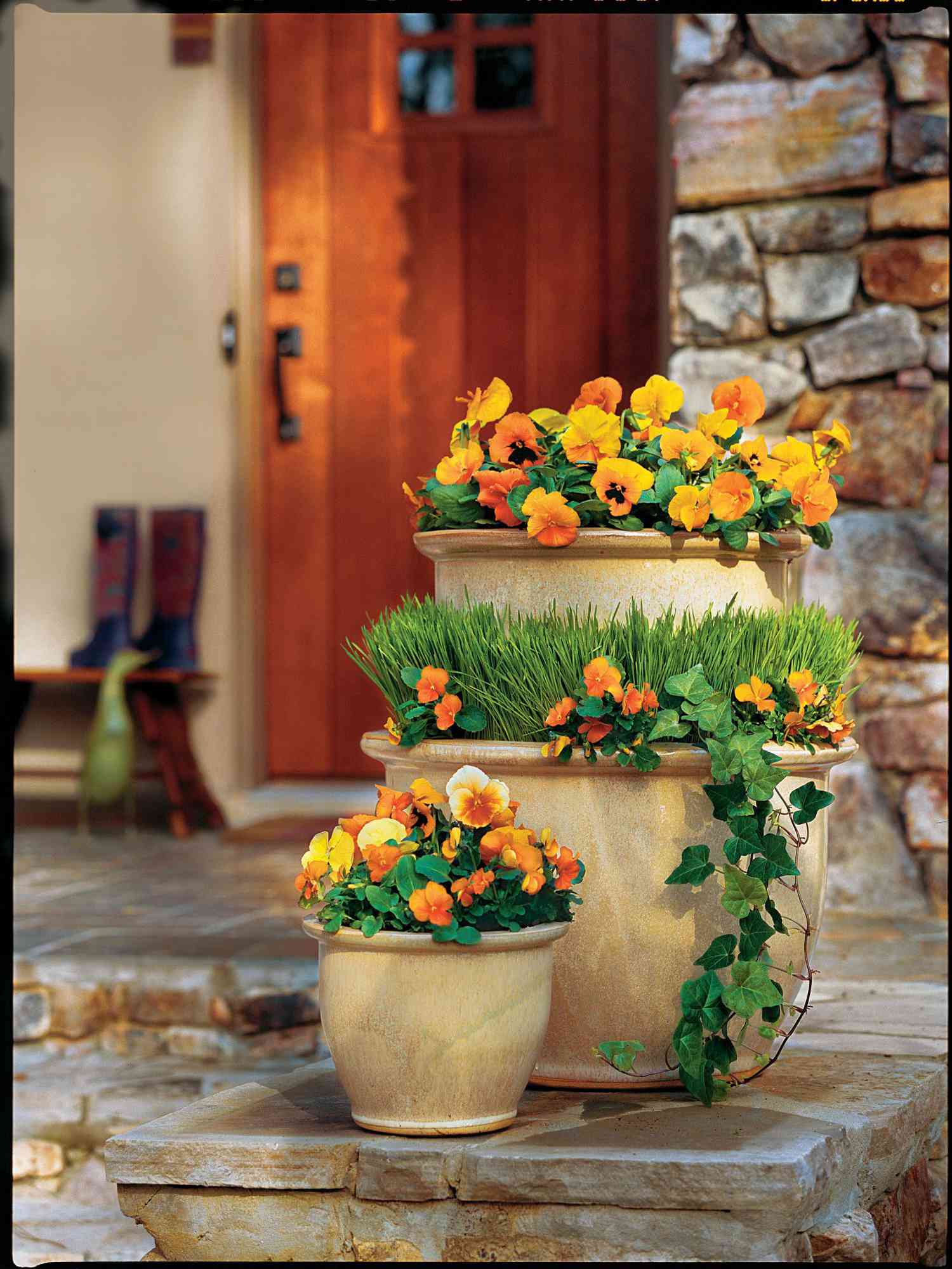 A warm autumnal welcome of «Orange Matrix» and «Delta Orange with Blotch» pansies, mixed with «Penny Orange» violas. Wheat grass, violas and English ivy fill the middle pot of the arrangement.
What's In the Window?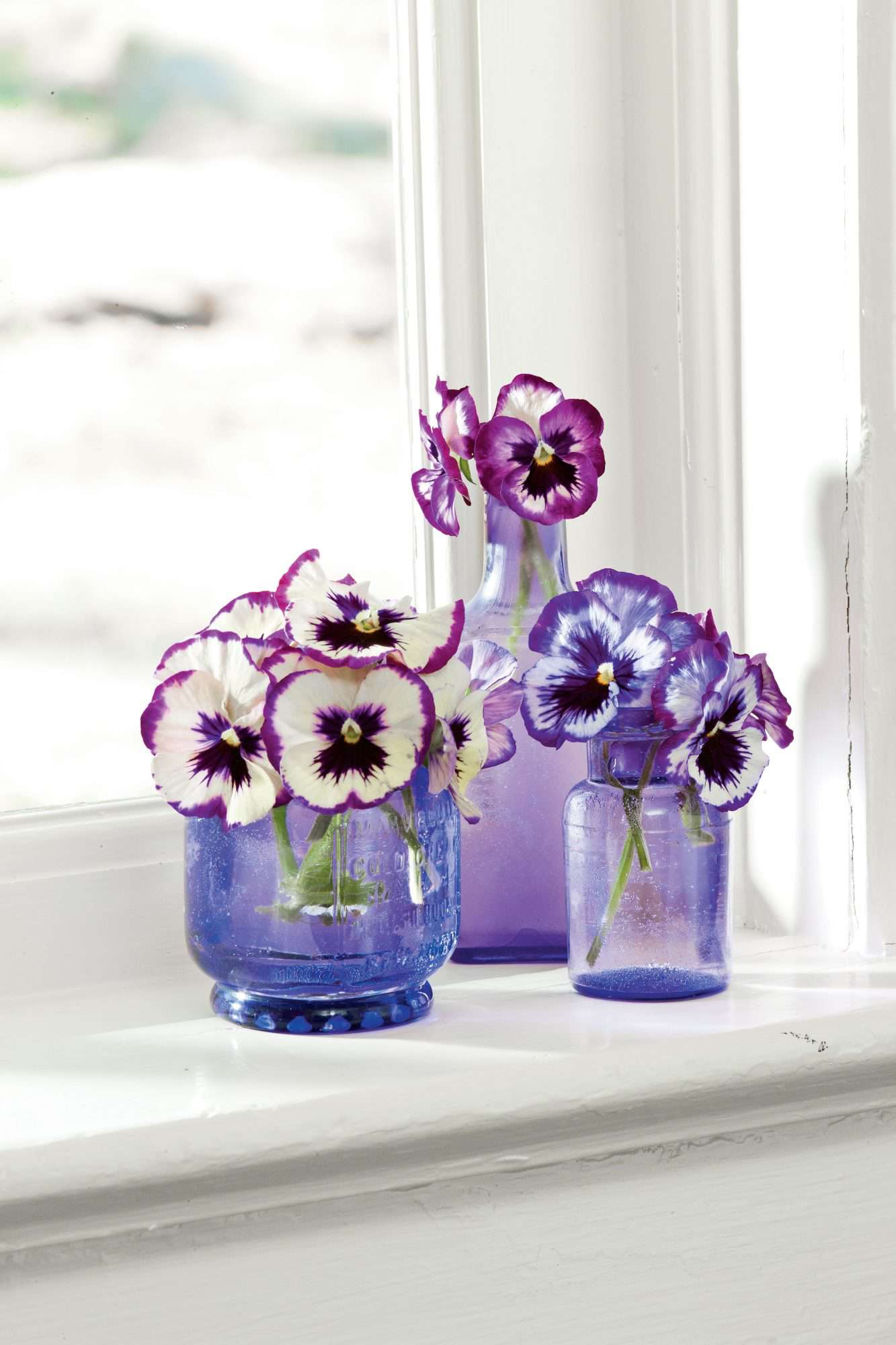 Winter days have you feeling gloomy? Bring happiness inside with just a few snips. Pair vintage purple bottles with these «Violet Picotee» panolas. (What's a panola? A pansy crossed with a viola.) You'll love the fragrance!
Stacked Bucket Centerpiece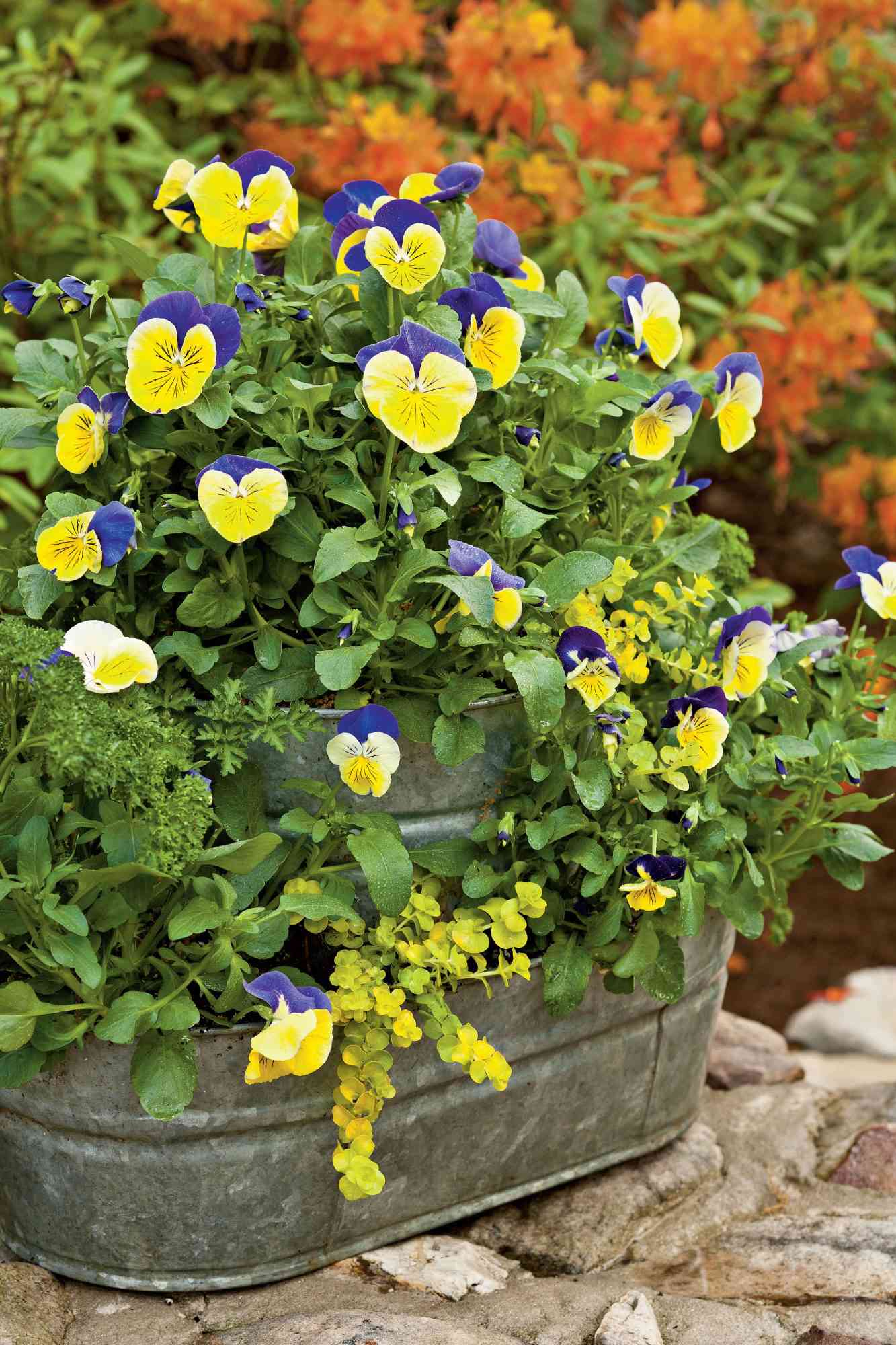 Gather two galvanized buckets. Plant the smaller one with violas and parsley. Tuck more violas and creeping Jenny around the edges of the larger one, and stack.
Classic Containers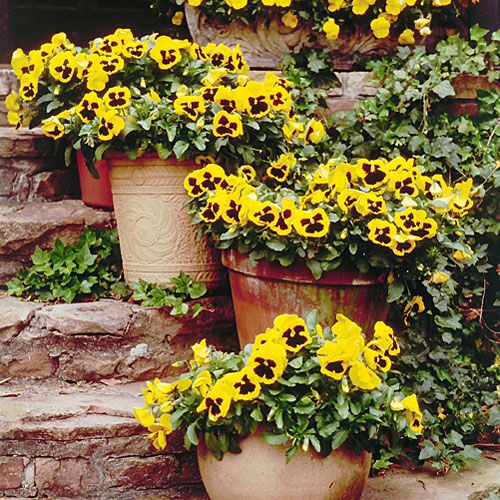 «Majectic Giants Yellow with Blotch» and «Delta Pure Yellow» pansies come together in an impressive arrangement that anyone can create.
Set the Table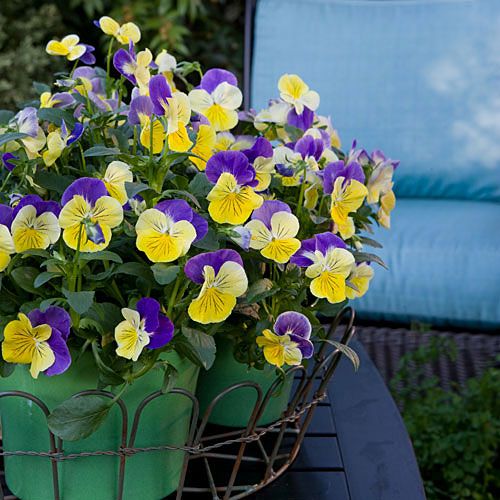 Use the purple and yellow blooms of «Matrix Morpheus» pansy in green, glazed pots to create a living centerpiece on your patio table.
In the Pots and in the Beds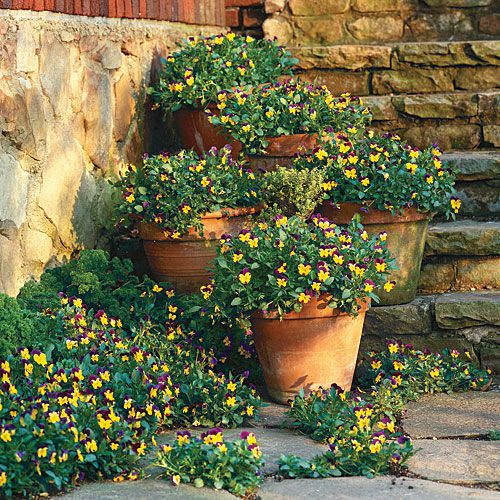 Repeat your plants in containers and flowerbeds for bigger impact. Heirloom «Johnny Jump-Ups» will reseed once they finish blooming, so pair with herbs such as triple curled parsley and variegated lemon thyme.
The Perfect Mixer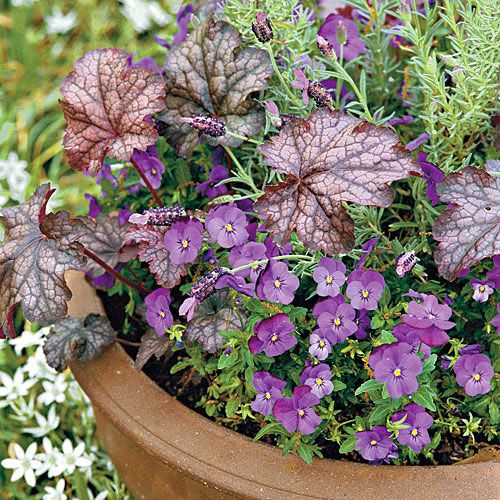 «Sorbet Blue Heaven» violas pair nicely with «Purple Palace» heuchera and the gray foliage and purple blooms of Spanish lavender.
Winter Whites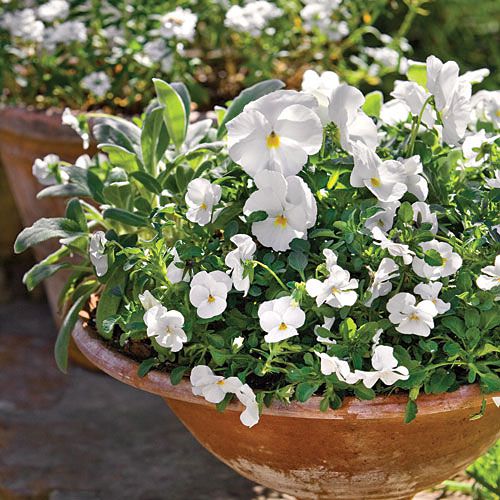 «Matrix White» pansies and «Sorbet White» violas pair perfectly with the gray foliage of common sage.
Just the Right Spot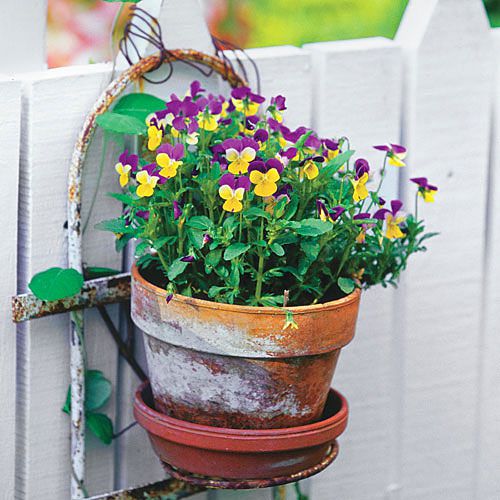 A small, perfectly-placed container makes a big impact in this cottage garden. Heirloom violas, also called «Johnny Jump-Ups», hang along the top of a picket fence, a spot that's not only easy to water, but where anyone who walks by can enjoy the arrangement.