Now that spring has officially sprung, it's time to cultivate your green thumb and assemble some beautiful flower combinations for container gardens. After a long winter, container gardens are an easy and affordable way to refresh your front porch or patio, while injecting some color into your outdoor space when you have very little room to plant. Get ready to spring forward into a new season with vibrant potted plants that are just right for the South. You'll be grateful for these 30 sunshine-loving plants, blooming bulbs, and pretty annuals that capture spring in all its natural glory and brighten your front door in the warmer months.
Wow with Baskets
Choose Pretty Planters
Step into spring with woven baskets overflowing with blooms. Take a note from gardeners across the pond, and plant front-porch arrangements in wicker containers. These can withstand the elements for about three years (rain will give them a weathered look). Replace them after a few seasons, or line basket bottoms with chicken wire to keep using. Fill bottoms of taller baskets with recycled plastic bottles to keep them light. Line the sides with sheet moss and breathable landscape cloth.
Pick a Cheery Palette
Varying the heights and textures of blooms helps the pink-and-white color scheme pop. We lined the containers with sheet moss (which supports itself) and backed that with breathable landscape cloth before adding potting soil. In the top basket are Profusion zinnias, «Truffula Pink» gomphrenas, and geraniums. The bottom one has begonias, «Surdiva» scaevolas, and «Glitz» euphorbias.
Make Them Last
Give these plants part to full sun (four to eight hours a day). Water them daily, and fertilize twice a week. Regularly deadhead spent blooms to help containers last all summer.
Refresh Your Greenery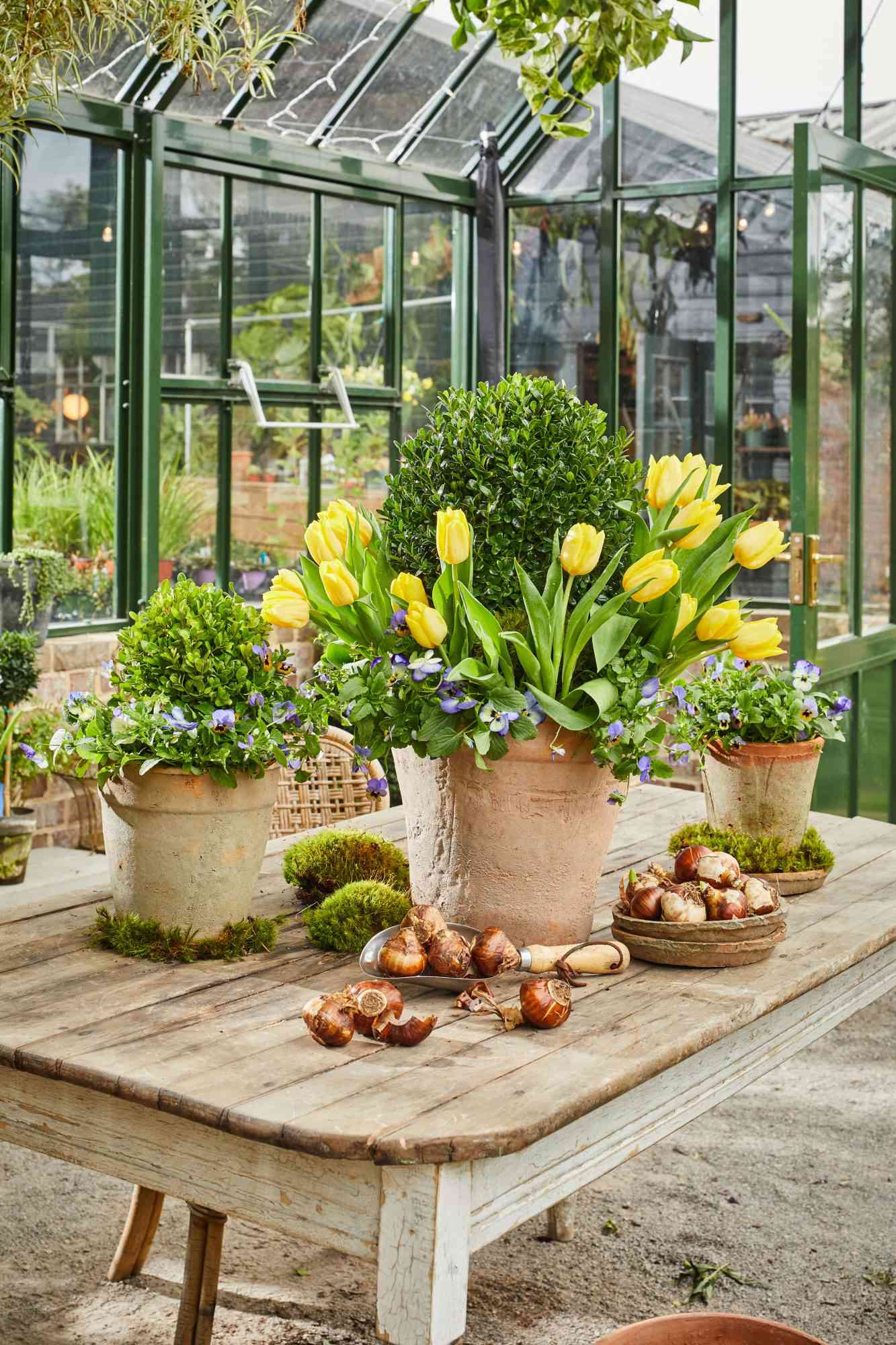 Give Containers Character
Prep your porch pots for spring with violas and adorably droopy tulips. Velvety moss adds extra charm to plain terra-cotta vessels.
Fill with Pretty Plants
Try dwarf English boxwoods, «Icy Blue» violas, and tulips.
Make Them Last
Surround boxwoods with violas. Add potted tulips purchased from a garden center. (Or next year, plan ahead and plant some tulip bulbs in December or January for early-spring blooms.) Water plants, and let them drain thoroughly. Place in part to full sun. At the end of spring, replace the violas and tulips with summer annuals.
DIY Moss Mixture
Add some character to your pots by with moss. Combine equal parts live sheet moss and buttermilk in a blender until a thick liquid forms. Spread on pots with a paintbrush and spray with water weekly.
Brighten Up with Blue and White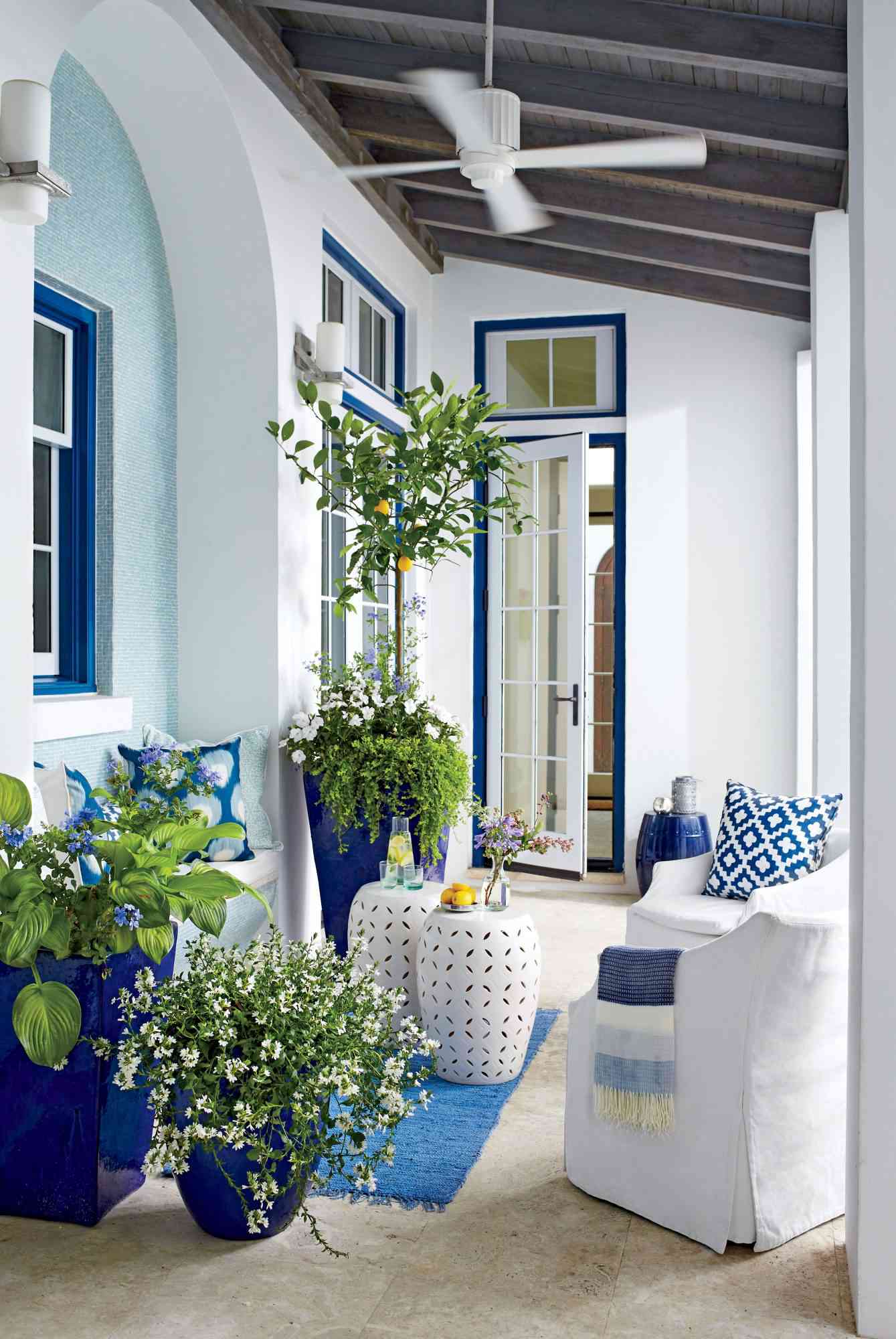 An effortlessly cool vibe is achieved here with three oversize cobalt-glazed containers, spilling with pale blue, white, and green blooms to complement the bright yellow hue of the «Meyer» lemon tree. Grow your «Meyer» lemon in a sunny spot in well-drained soil, watering regularly to keep slightly moist. This tender plant prefers temperatures between 50 and 80 degrees Fahrenheit.
Frame a Window with Blooms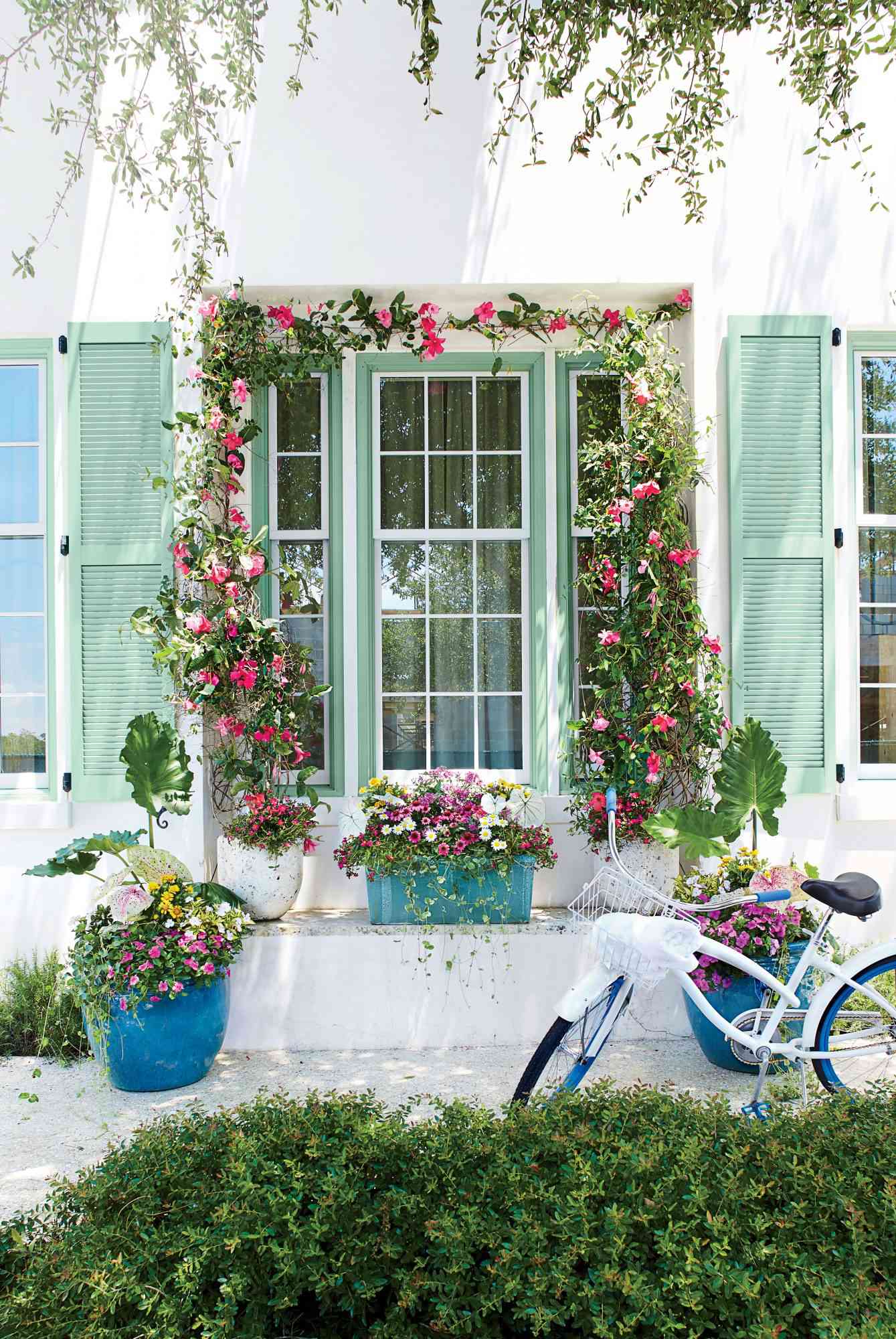 A mix of mostly pink and magenta blooms with pops of white and yellow are placed in three turquoise containers for a vibrant, beach-inspired walkway display. The mandevilla plant featured here is a common tropical patio plant that can withstand the typical hot, muggy weather in the South. Mandevilla can be grown year-round in frost-free areas.
Charm with Pink and Lime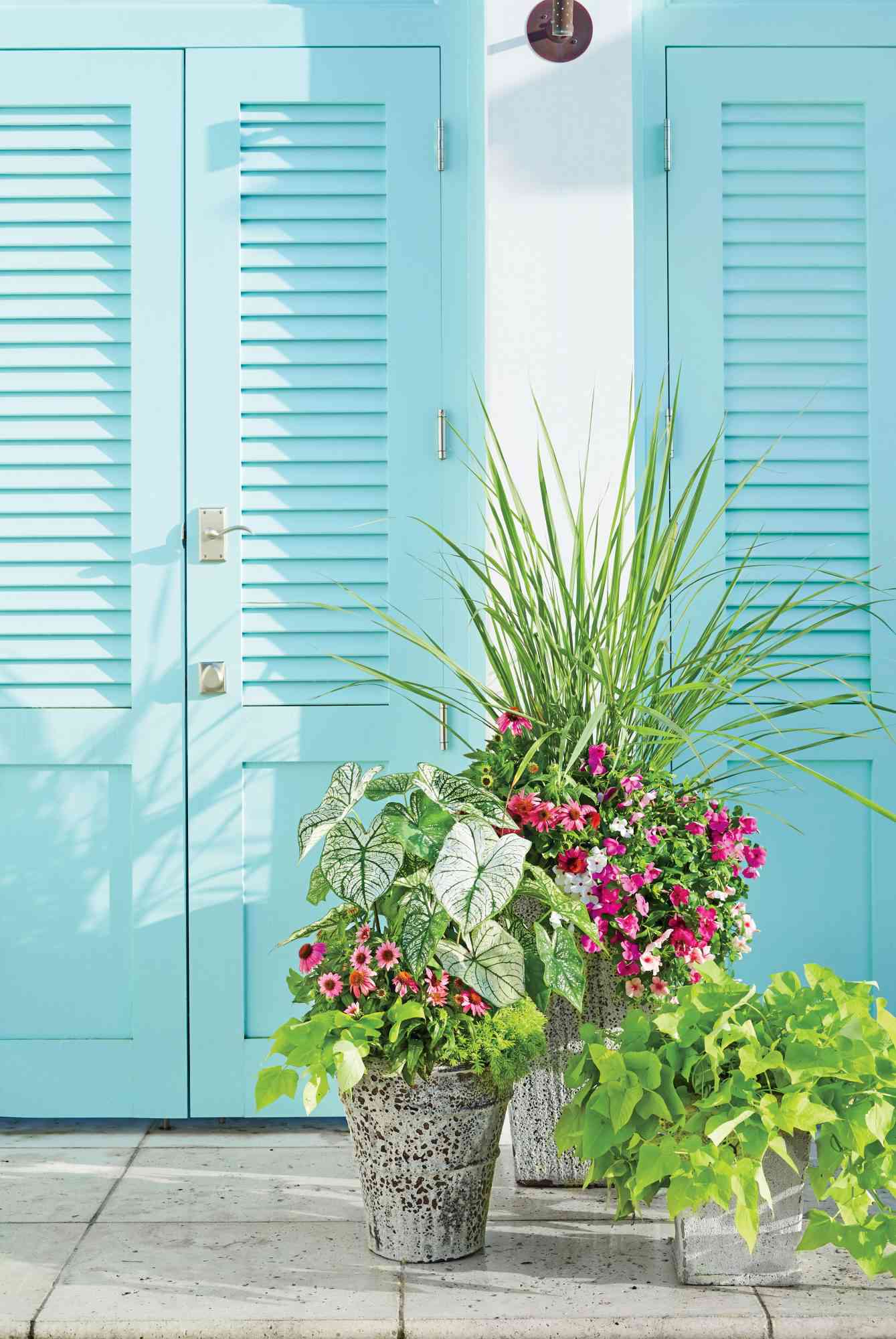 Nothing says spring like pairing pink and lime in a container garden. This sun-loving arrangement includes coneflowers, «Cora» cascade vincas, and sweet potato vines. Add another bold plant with height at the back to create some vertical interest.
Mix a Rainbow of Colors
Usher in spring with a vibrant arrangement of bright pink and yellow zinnias in different pots of various heights on sun-drenched porch. Purple verbenas and blue calibrachoas are also tucked in the containers to fill out the base. This rainbow of colors celebrates the bounty of spring.
Hang a Rustic Container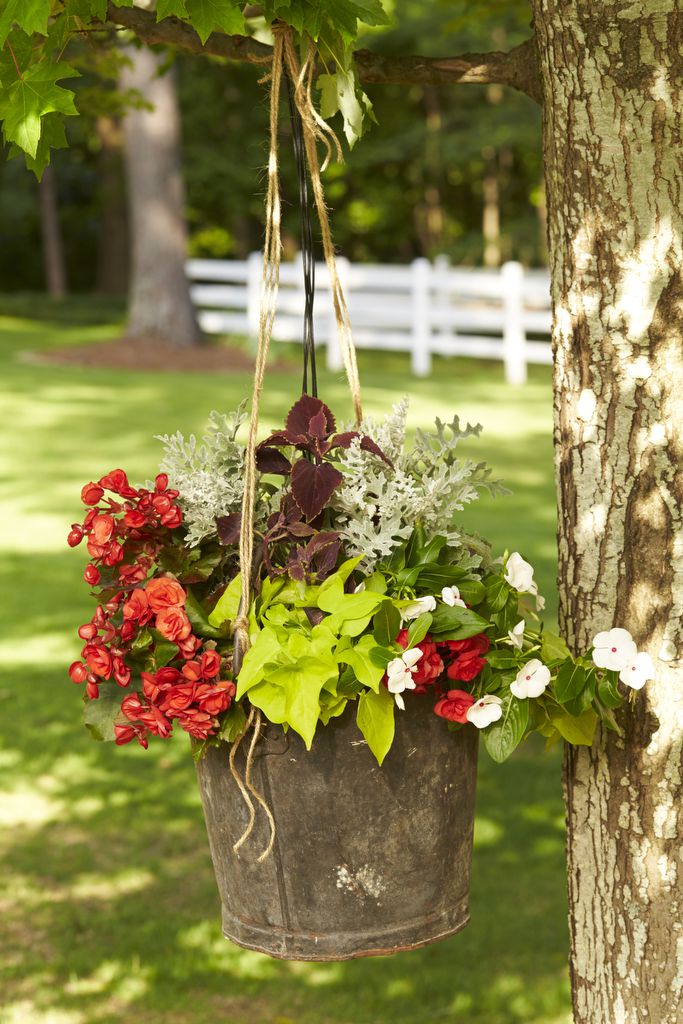 A metal bucket is perfectly suspended here from a tree branch in the yard to add a little rusticity and Southern charm in an area with filtered sun. Vinca, «Rieger» begonias, coleus, and dusty miller round out the hanging container garden. Begonias can be planted in the spring after all danger of frost has passed.
Dress Up Your Tabletop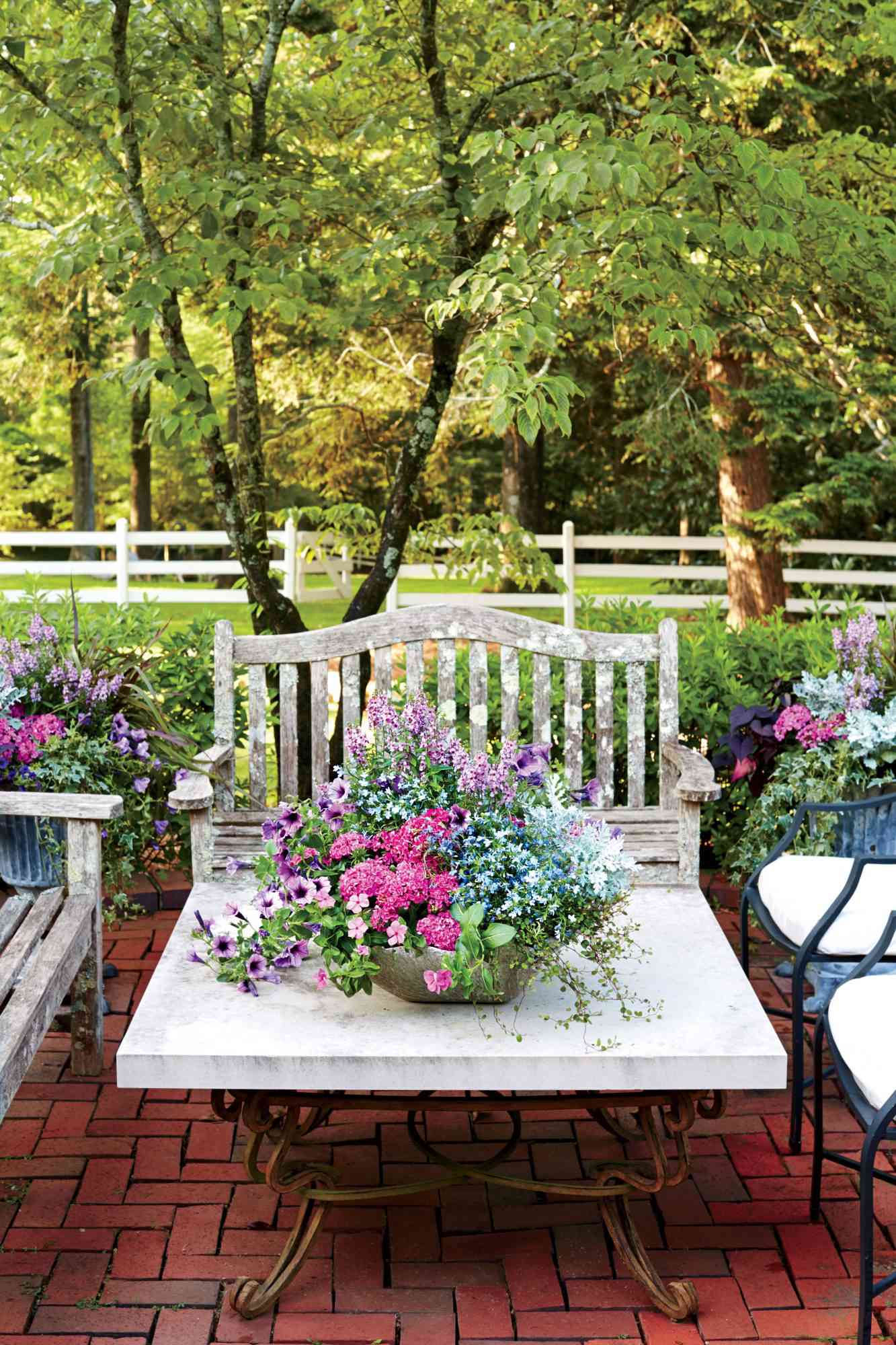 Dress up your outdoor patio area and accent tables with a container centerpiece. Here, a prolific grouping of purple, pink, and blue flowers is planted in layers for a romantic and precious display. Water and deadhead regularly to keep flowers fresh for your next garden party.
Add a Tropical Punch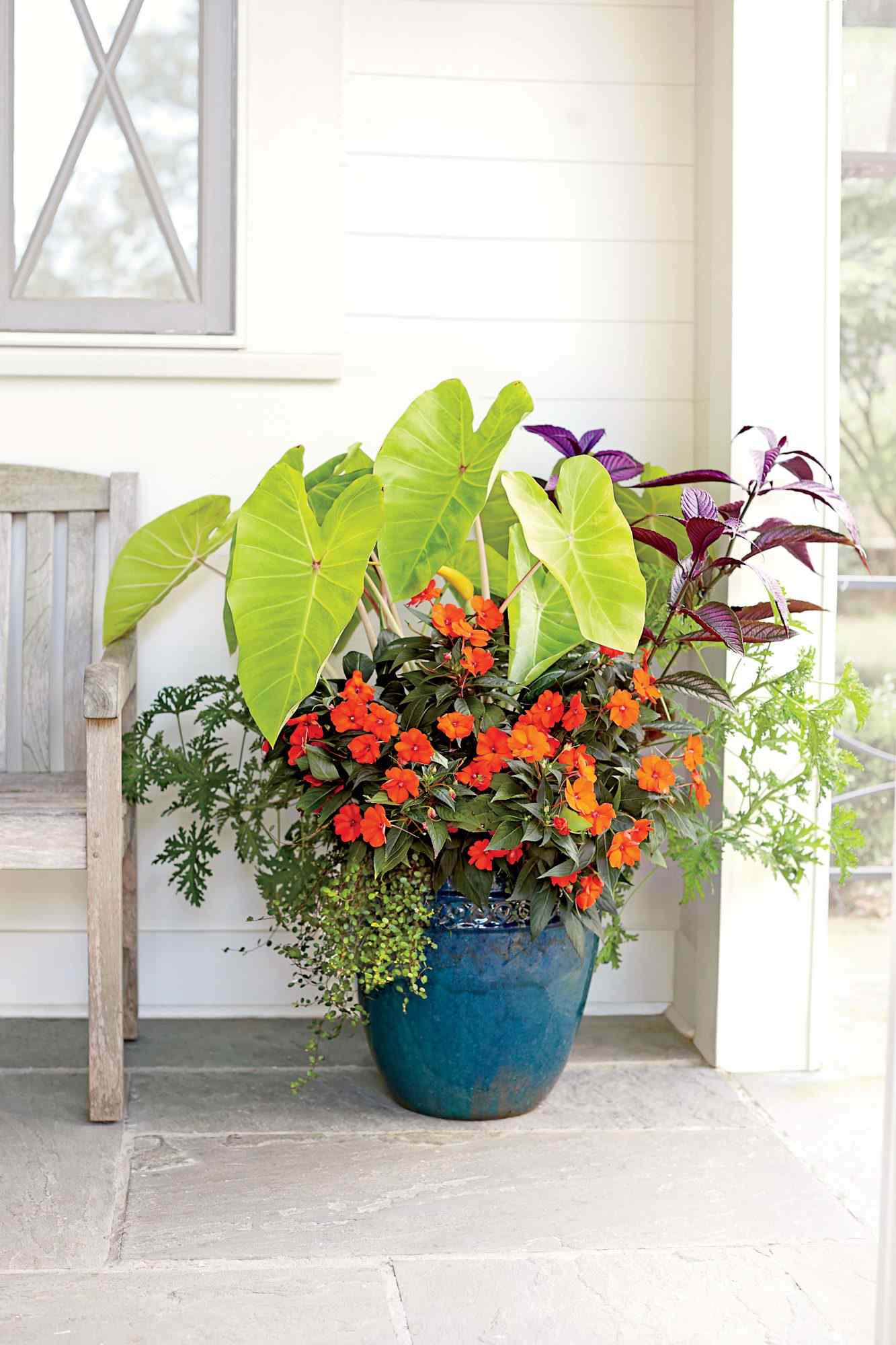 Easily transform your outdoor space into a tropical escape with bold orange SunPatiens, purple Persian shield, and big, heart-shaped «Maui Gold» elephant's ear. It's a sight that makes you feel like you're on vacation without ever leaving the front yard. While SunPatiens will grow in full sun, it is just at home in the lightly shaded conditions that this foliage prefers.
Grow Plants Made for Shade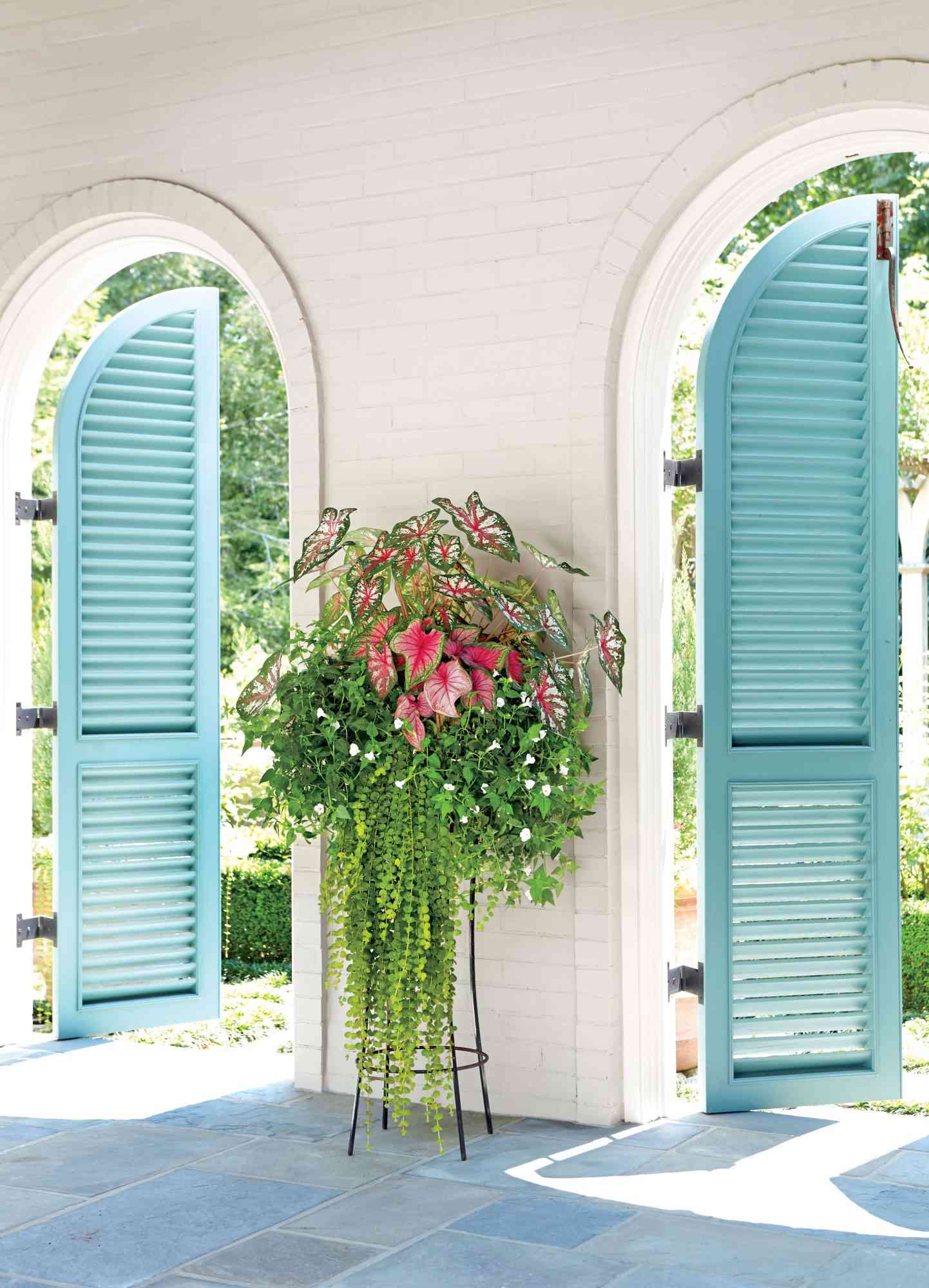 Here, a raised container planted with bright red, fancy-leaved caladiums and creeping Jenny make a sweeping statement and grand front entry arrangement that's too cool for the sun. Place this tall container in shady spots for low-maintenance care. Caladiums may not be available in garden centers until late spring in some areas, but you can get a head start by growing the bulbs indoors.
Go For Gold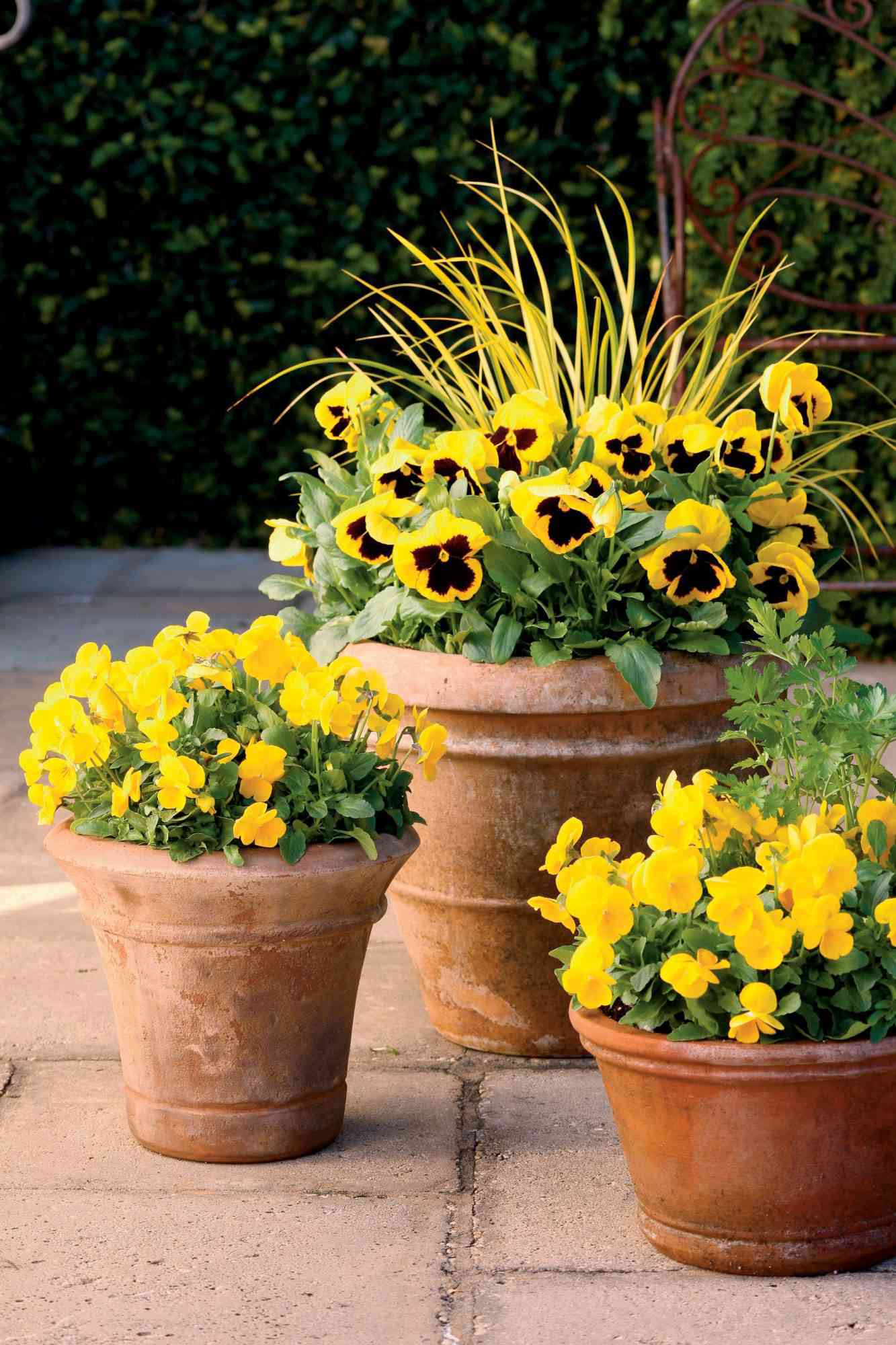 Sunshiny yellows make a cheerful harbinger of spring. This beaming trio of «Ogon» golden sweet flag, «Matrix Yellow Blotch» pansies, and «Penny Clear Yellow» violas will bloom profusely in cooler temps. The aptly-named ice pansies will even take a hard freeze.
Beat the Heat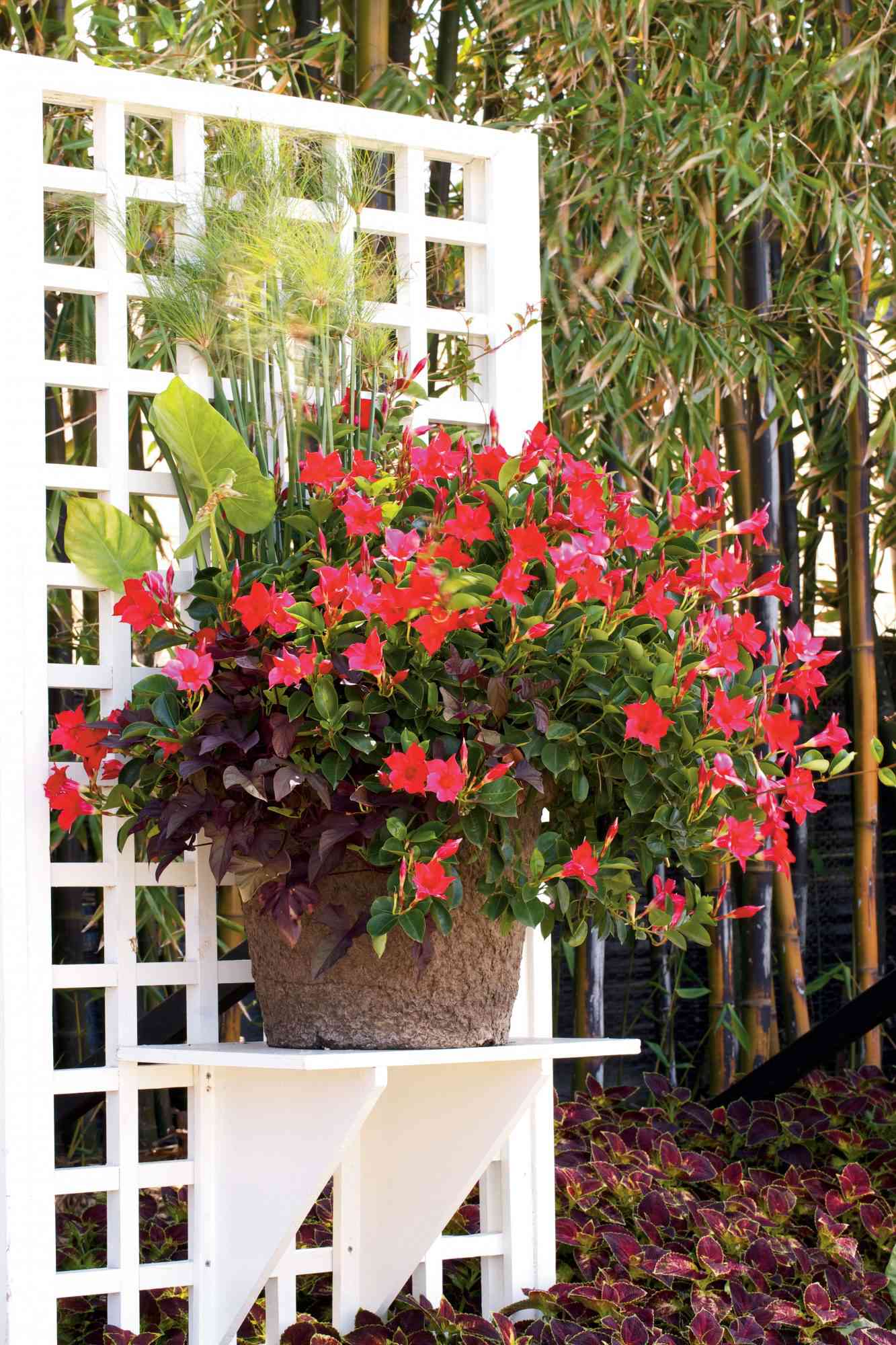 It can be tricky to get bulbs to bloom when temperatures barely dip below freezing in winter. If your climate isn't known for wintry temperatures, you can mimic the same beautiful results by filling a single container with heat-tolerant «Baby Tut» dwarf papyrus, elephant's ear, «Blackie» sweet potato vine, and «Vogue Audrey» mandevilla.
Romantic Freestanding Container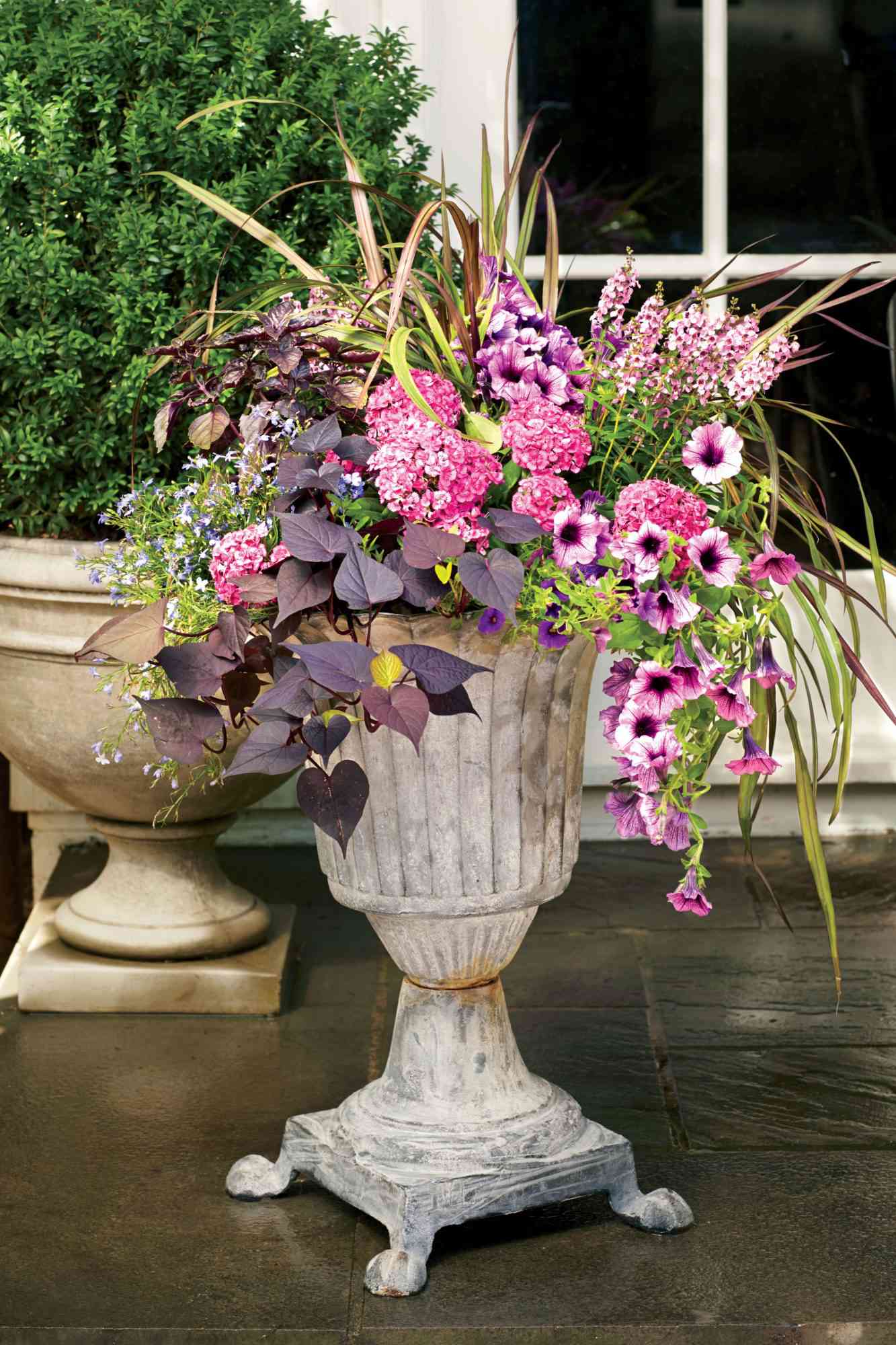 Here, a deep, cast-metal urn is planted with variant shades of pink and purple flowers, such as pink dianthus, pale blue lobelia, and pink angelonia, to create one harmonious container arrangement that sings of springtime. When planting a more monochratic arrangement, use varying shades, flower sizes, and foliage texture to create interest.
Grow Daffodils in Containers
In the South, there are many things we disagree on, but thankfully, no one argues with growing sunny daffodil bulbs to enjoy during spring. This combination of yellow narcissus, violas, and petunias makes for a welcoming entrance. Plant bulbs in fall to make certain they get sufficiently cold weather, or buy already blooming plants from a garden center in spring.
Our 10 Best Container Gardens
If managing a full garden isn't your style, we recommend instead turning to these bright, bountiful container gardens for inspiration. We picked our 10 favorites – a variety of outdoor containers, indoor greenery, and porch perfection.
Fill a Long Container
This freestanding, trough-like container is filled with «Diamond Frost» euphorbia, coleus, and «Supertunia Vista Bubblegum» petunia. Dark-colored plants are placed in the back to make lighter blooms really pop. Incorporating the «American Gothic»-inspired pitchfork for extra farmhouse feel is totally up to you.
Coordinate Planters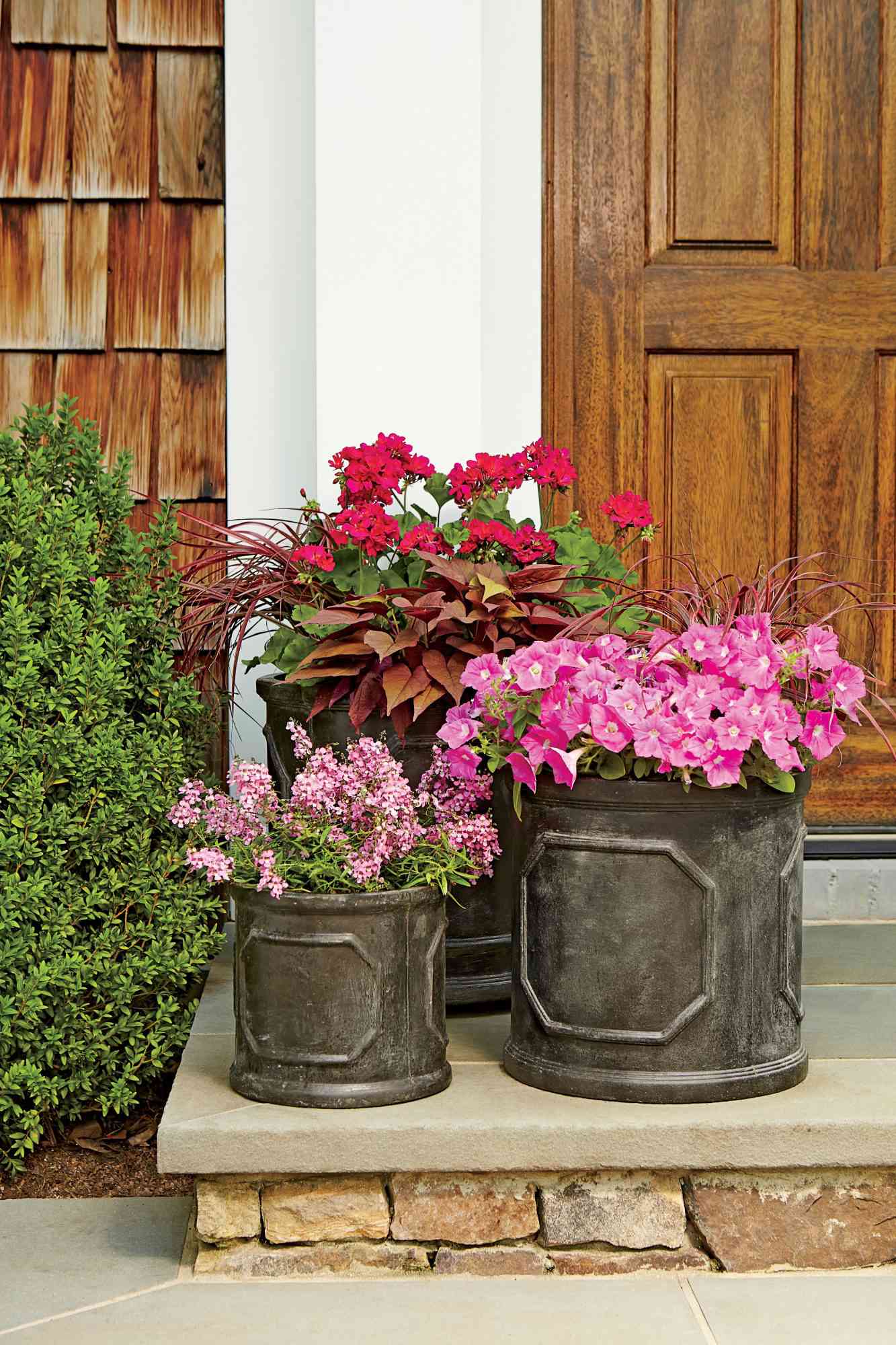 This entryway porch trio coordinates copper-toned, metal planters of different sizes. The repeated pink and red hues of sweet potato vines, pennisetum, geraniums, petunias, and angelonias also help tie the arrangement together. Angelonia is an especially heat-tolerant flower that only requires weekly watering.
Mix Flowers and Edibles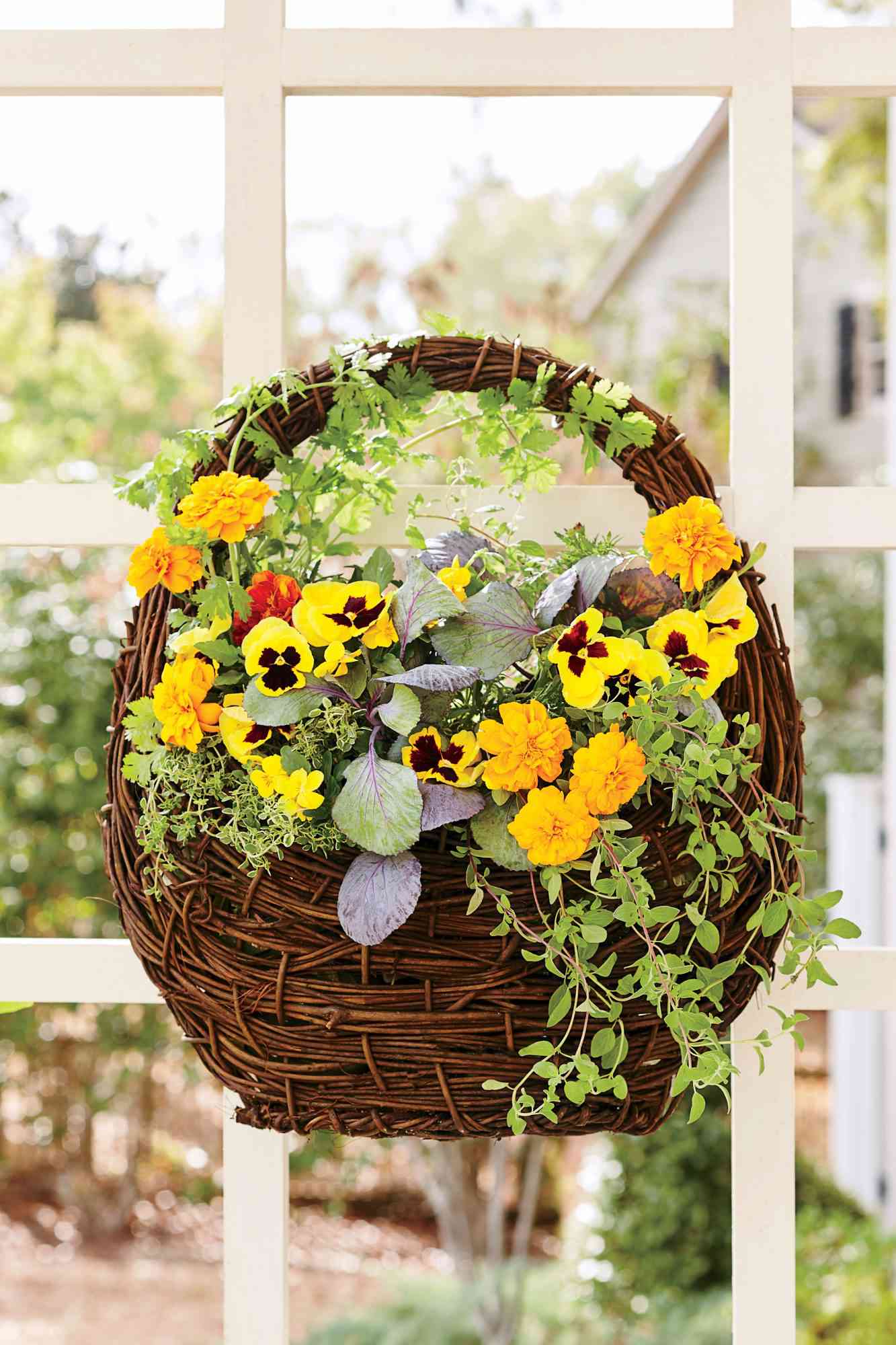 When it comes to filling hanging containers and baskets, we say the more the merrier. Here, a savory mix of edible herbs was planted with pansies and marigolds. This basket doesn't just look beautiful—pluck a sprig to add flavor to your springtime dishes.
Stack on the Stair Steps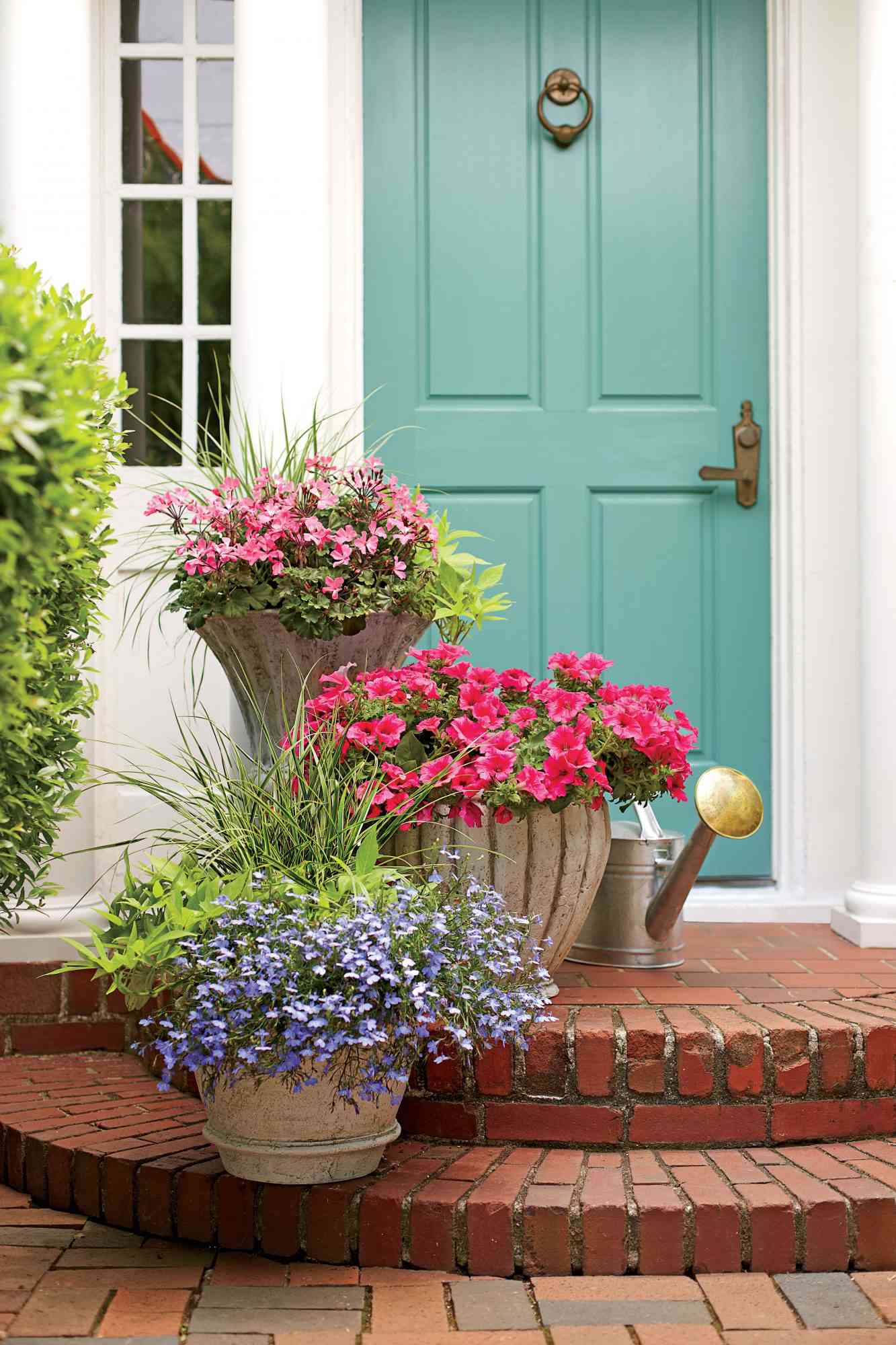 When a small porch or patio isn't available for a large grouping of containers, the steps leading up to your home can serve as a beautiful focal point for flowers. Add a pop of color to your front entryway by tucking «Caliente Pink» geraniums, «Surfinia Rose Veined» petunias, and «Techno Heat Light Blue» lobelias around the base of three neutral-shade containers.
Use Plentiful Blooms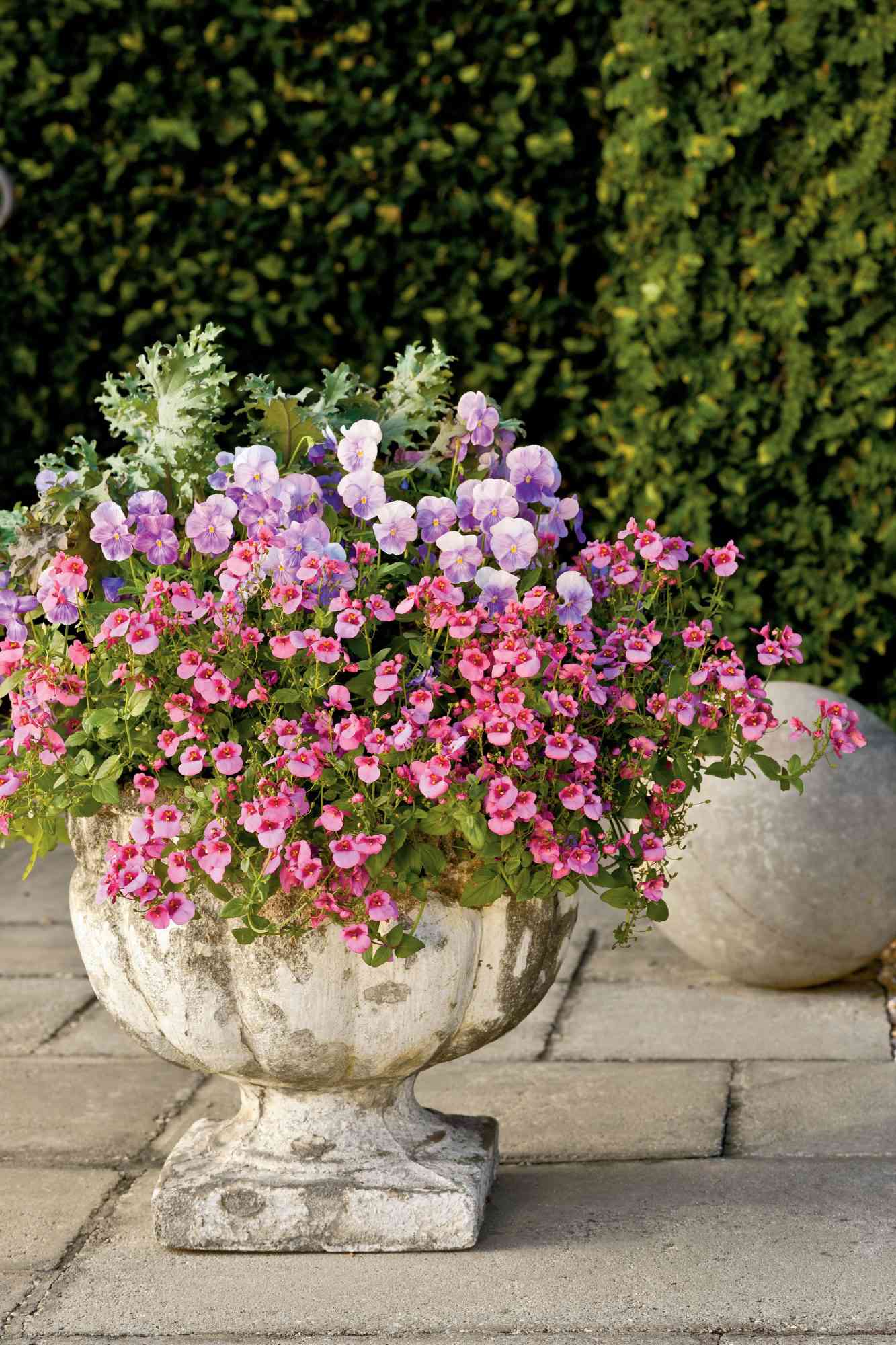 May your containers runneth over with the plentiful pink blooms of «Strawberry Sundae» twinspur, a flashy yet small perennial of the Diascia hybrid. Pair with violas and kale to really create a thrilling and spilling garden display. Or try lettuce, one of the easiest veggies to grow in a container in cool weather.
Stack Your Pots with Succulents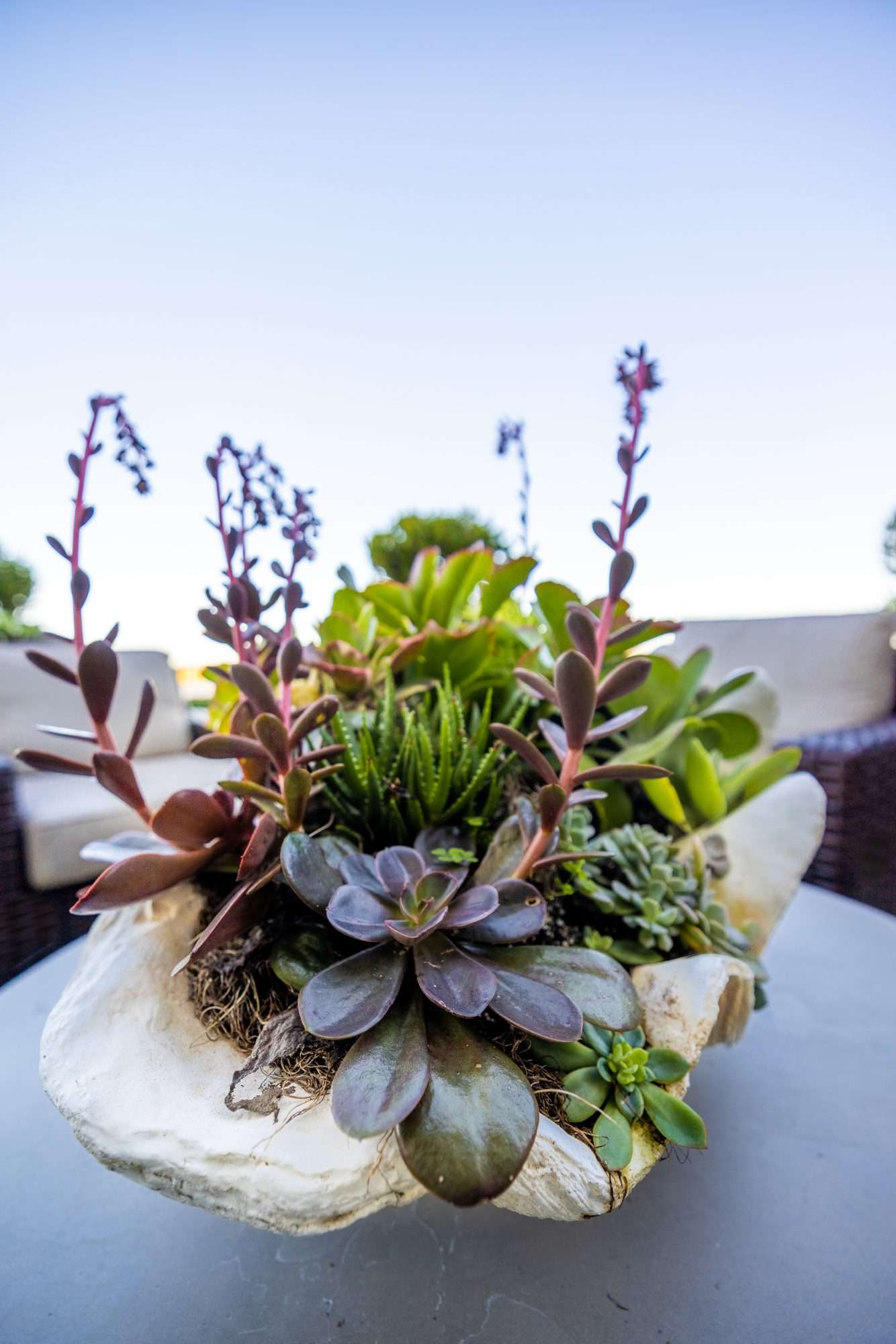 Potted arrangements of no-fuss succulents will last throughout spring and summer, with very little effort required on your part. Plant in fast-draining soil and water when the container dries out. If you'd like to keep your container year-round, sedum, sempervivum, and agave are hardier succulents.
Bring On the Sun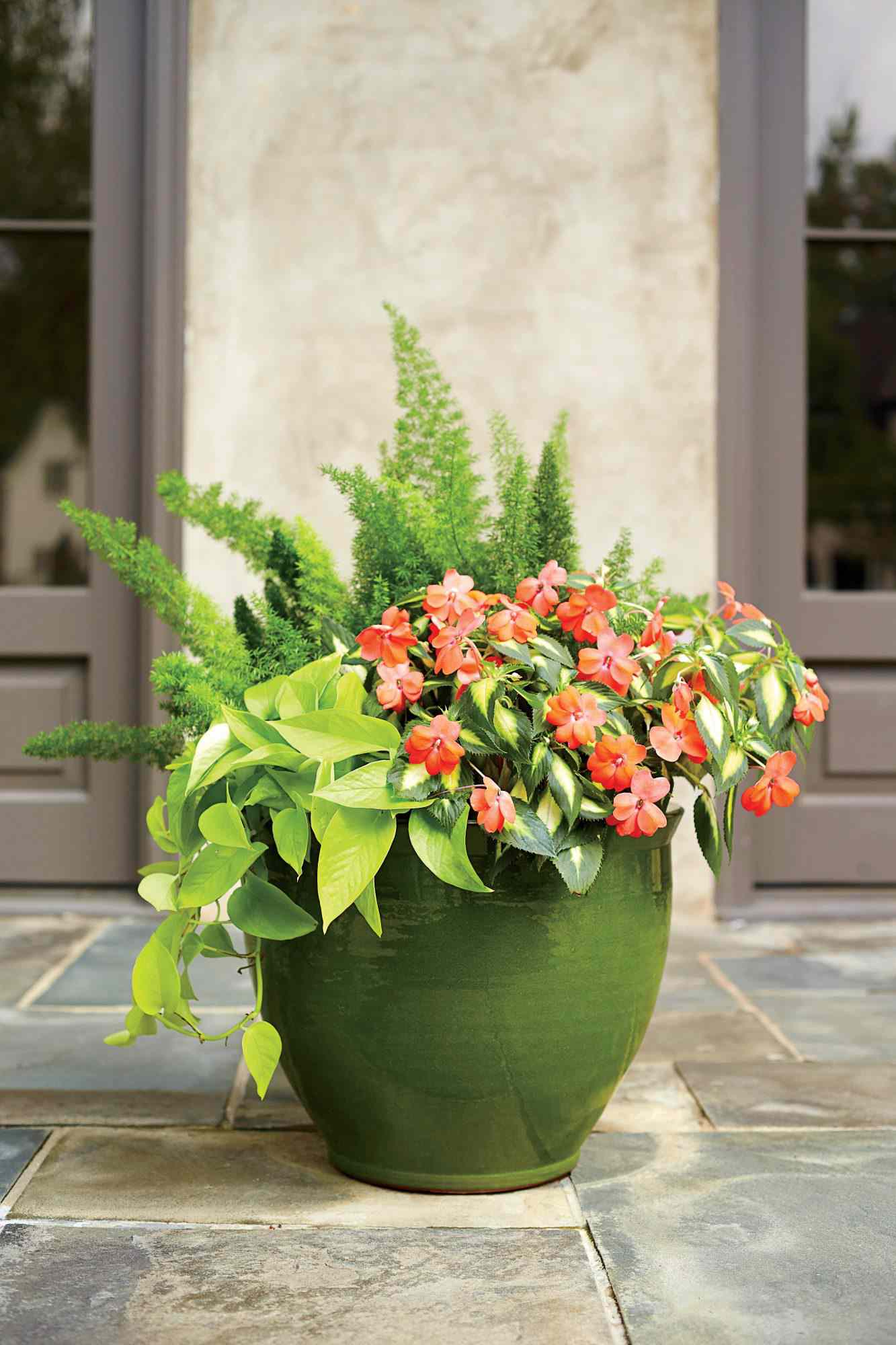 This bright and fresh miniature container garden of SunPatiens, foxtail asparagus fern, and «Neon» pothos will thrive throughout spring and summer, even in direct, ambient sunlight. The peach SunPatiens adds a touch of color to this spring-green arrangement. Provide consistent moisture to keep your asparagus fern looking verdant.
Geraniums Built for the South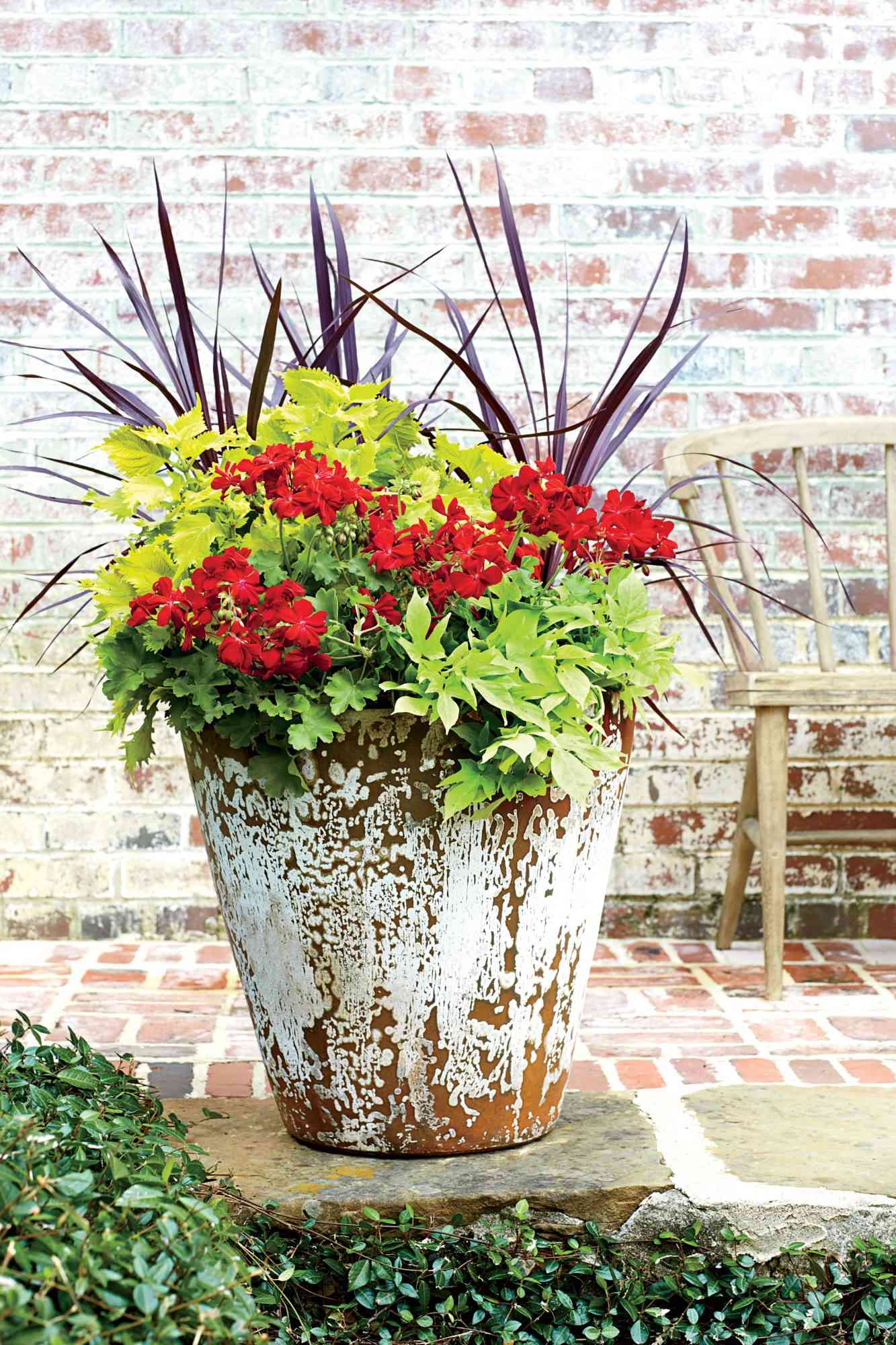 Update a vintage container with bold, heat-tolerant geraniums and a backdrop of rambling green plants. Common geraniums are perennial in frost-free areas, but are grown as annuals in most of the South. Geraniums do well in well-drained soil and full morning sun.
Show Your True Colors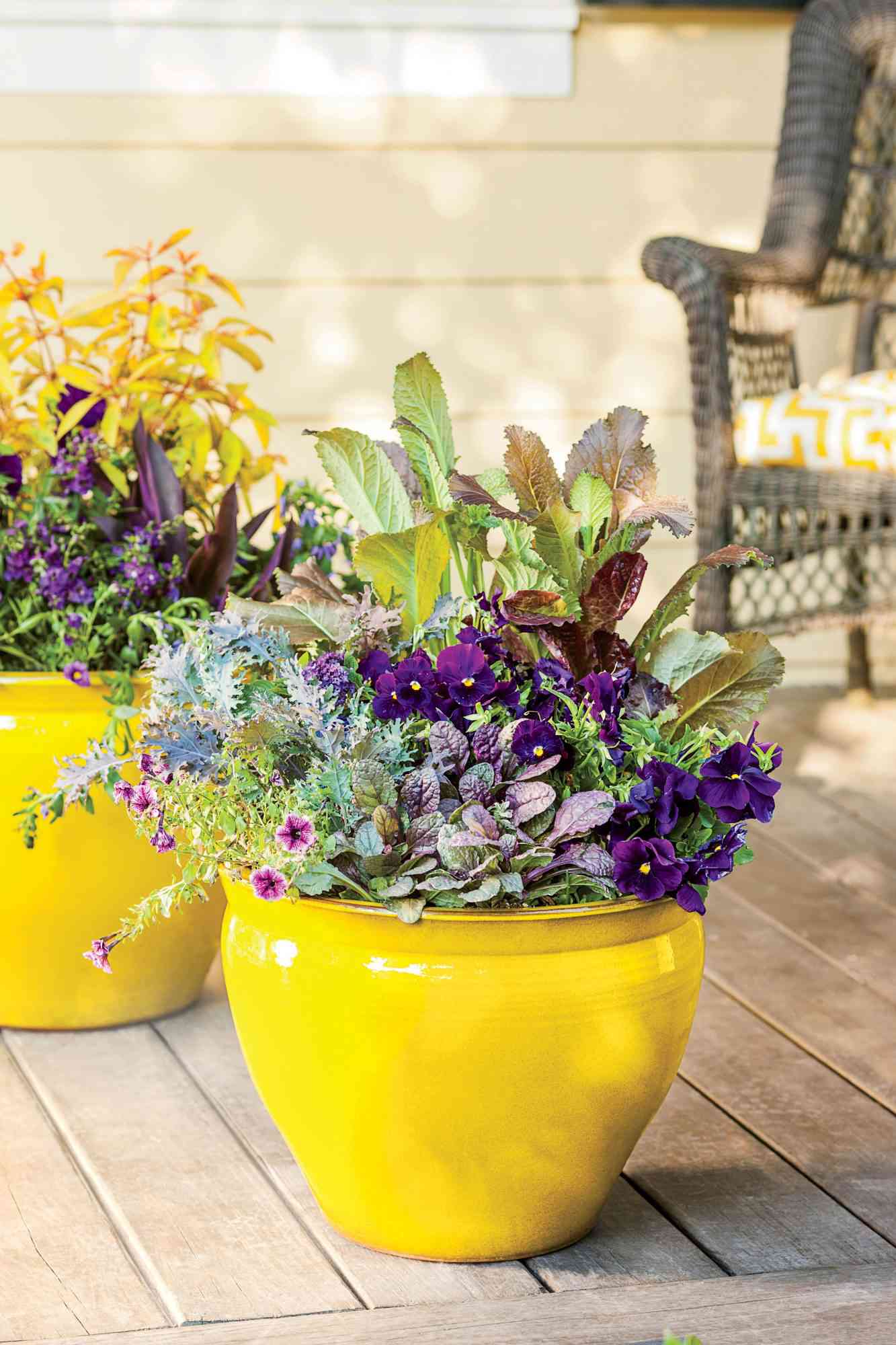 Let your Tiger pride shine with an LSU-themed container garden. A strong visual impact is made with a high-contrast foliage combination of deep purple and a bright, lemon-yellow glazed pot. Even if you're not a football fan, this is still a showstopping display that will wow your guests.
Embrace the Wild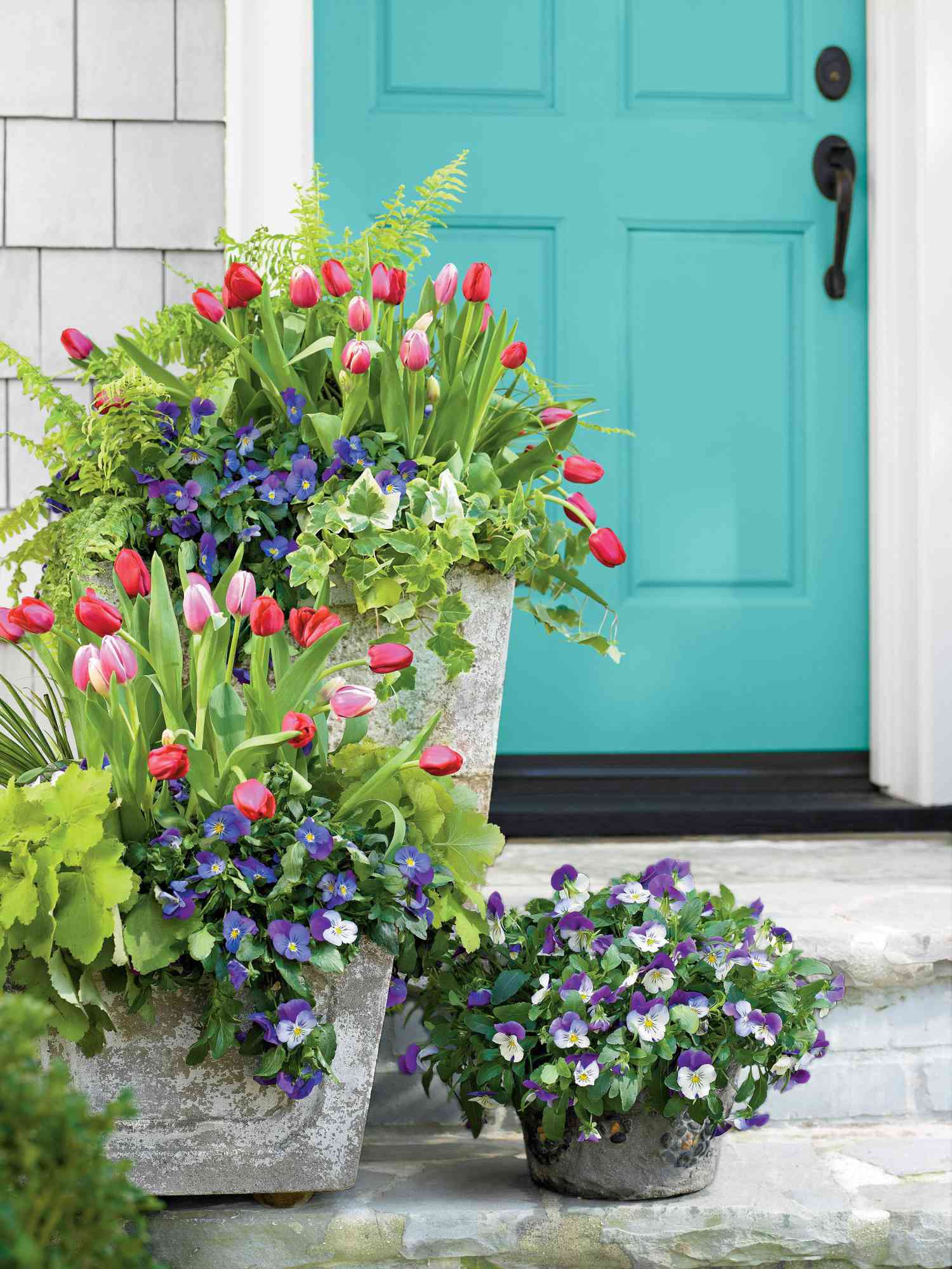 Tap into your inner wild child by planting free-flowing and «Tiger» fern with tulips, pansies, acorus, heuchera, and variegated ivy. Here, we let the plants grow and flow, just as good old Mother Nature intended. These plants prefer even moisture.
Brighten Your Doorstep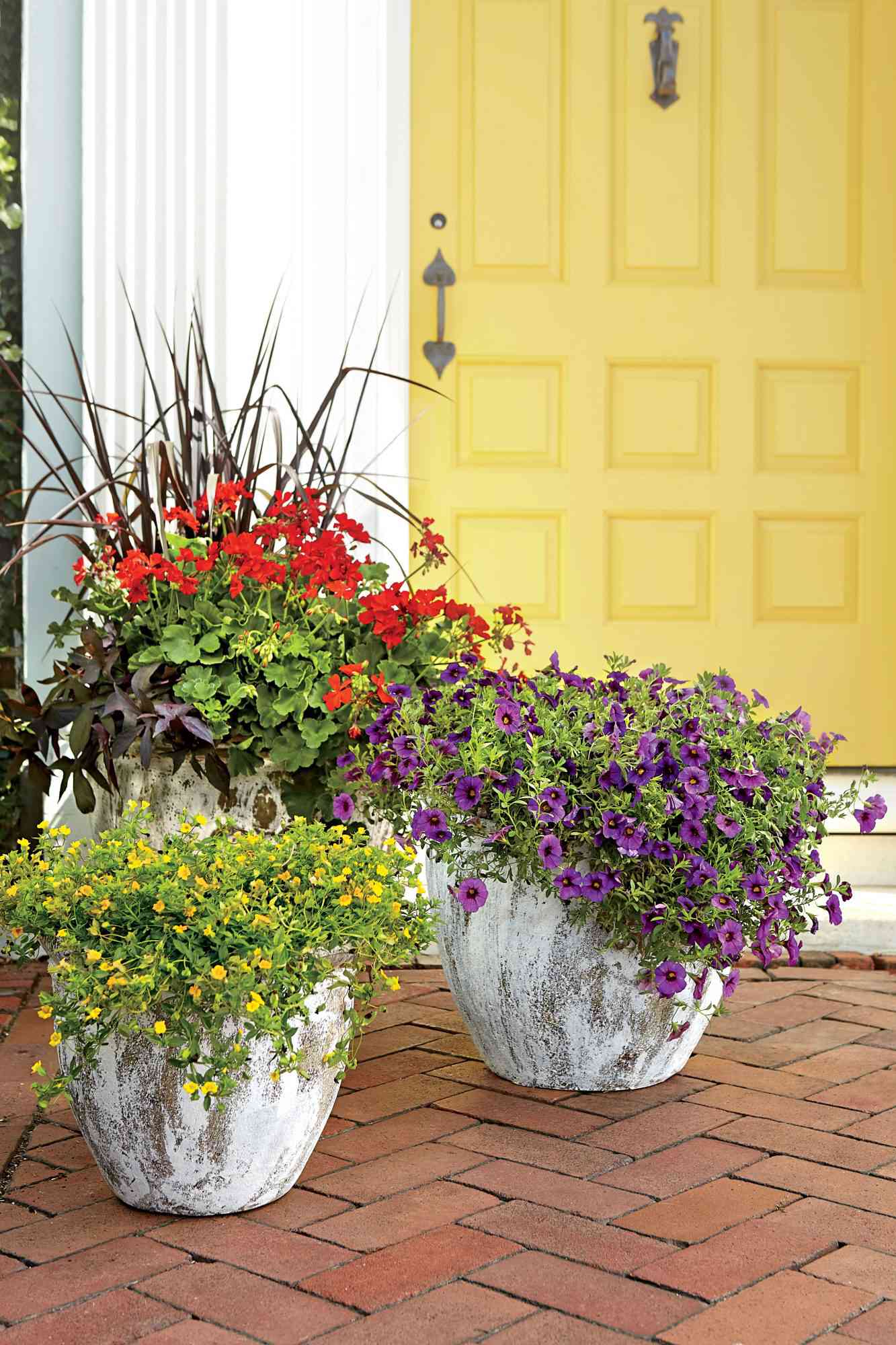 Geraniums, calibrachoas, and mecardonias in bright red, yellow, and purple combine to make one pretty grouping in these whitewashed containers. The vivid colors set off the sunny yellow door in the background.
Go for Bold Foliage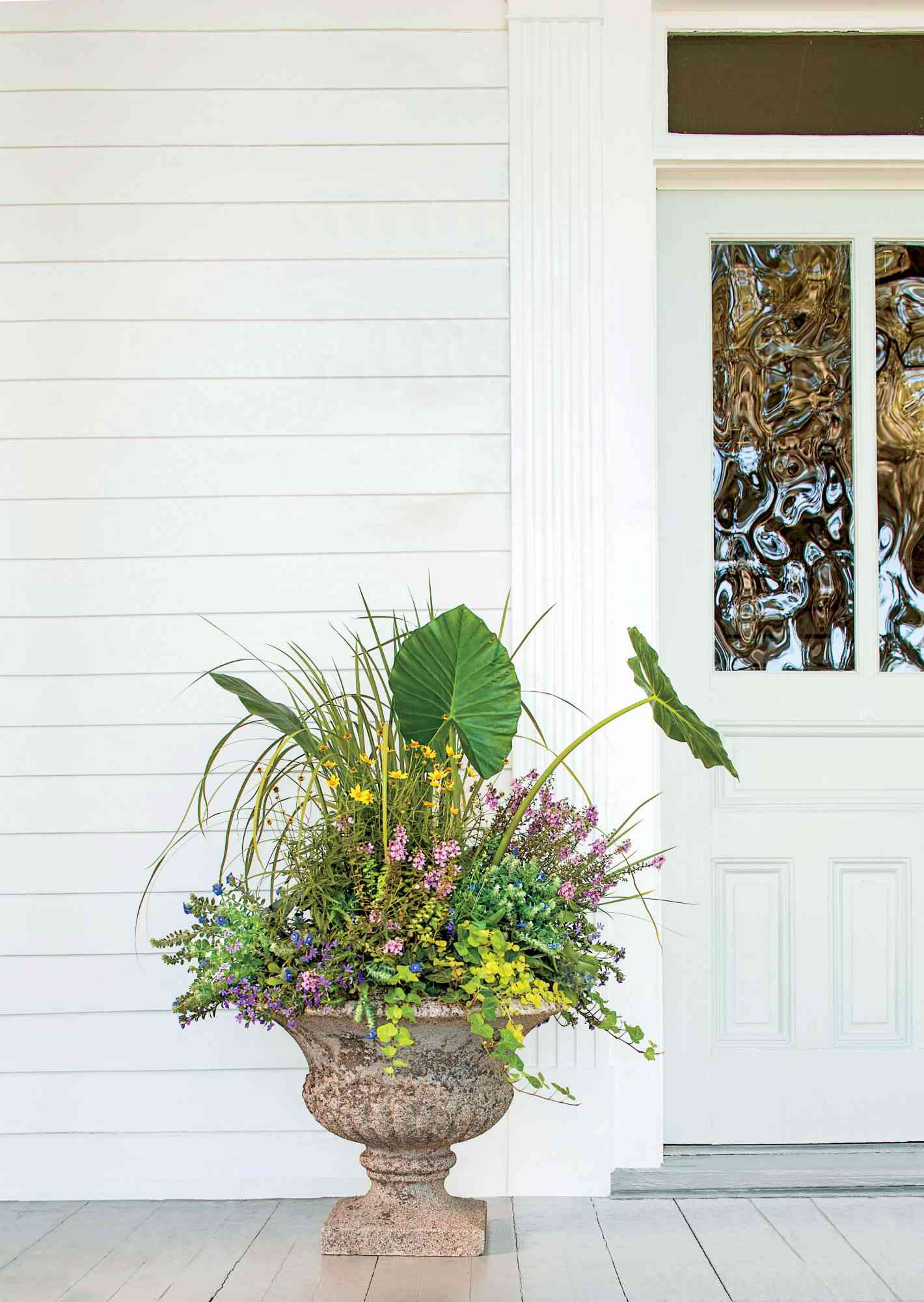 Here, bold elephant's ear takes the spotlight. Placing it front and center in a concrete urn allows you to appreciate its oversize leaves up close and personal. Small blooms and finely textured foliage add to the display without stealing the show.
Use Brightly Colored Pots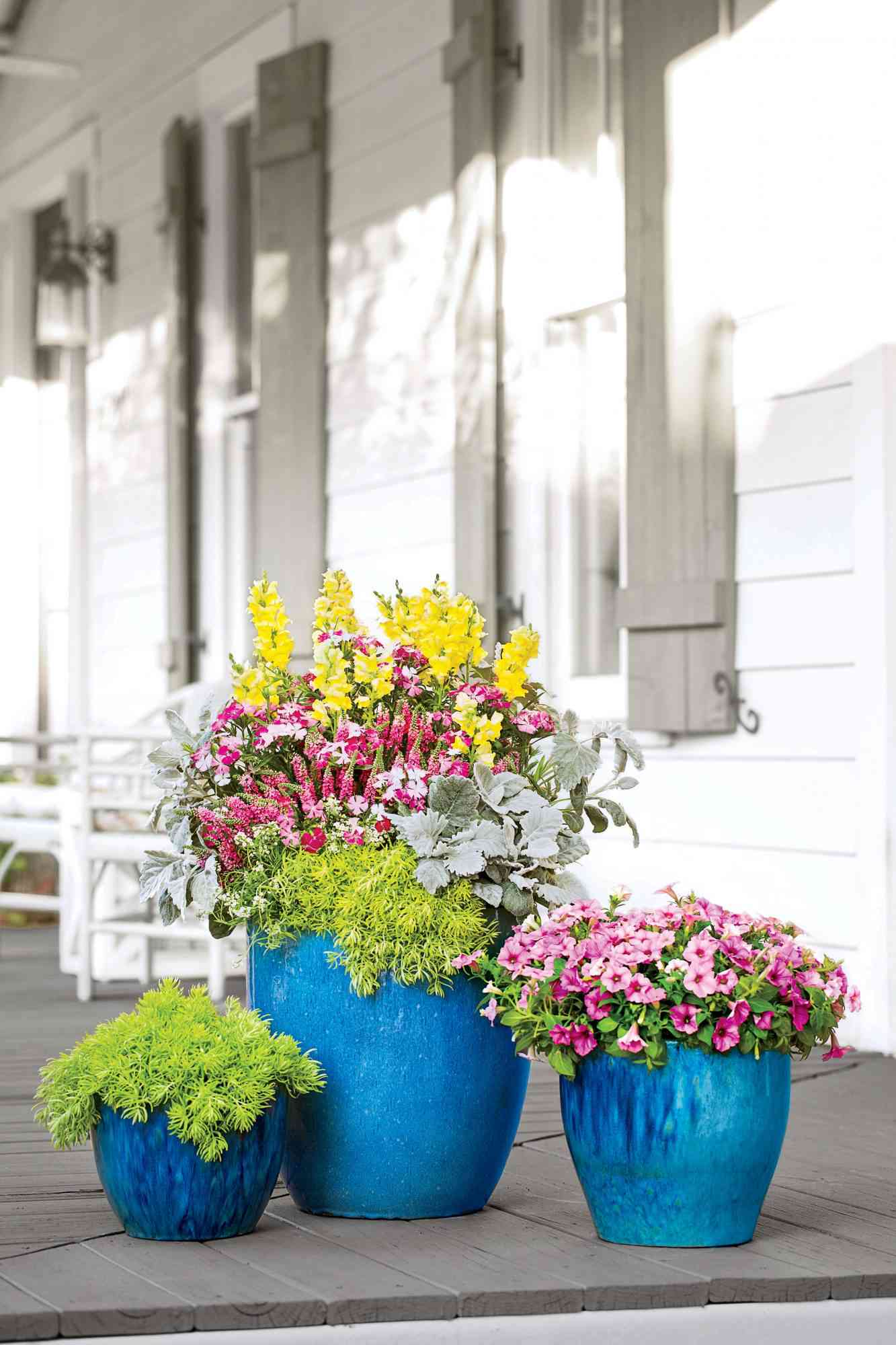 Unify your container garden arrangement by repeating the color of the pots, rather than the flowers. That gives you more freedom to play around with color and texture when it comes to creating a lush, springtime combination in each container. This bright blue sets off the lime green foliage and yellow and pink blooms.
Drape Your Front Porch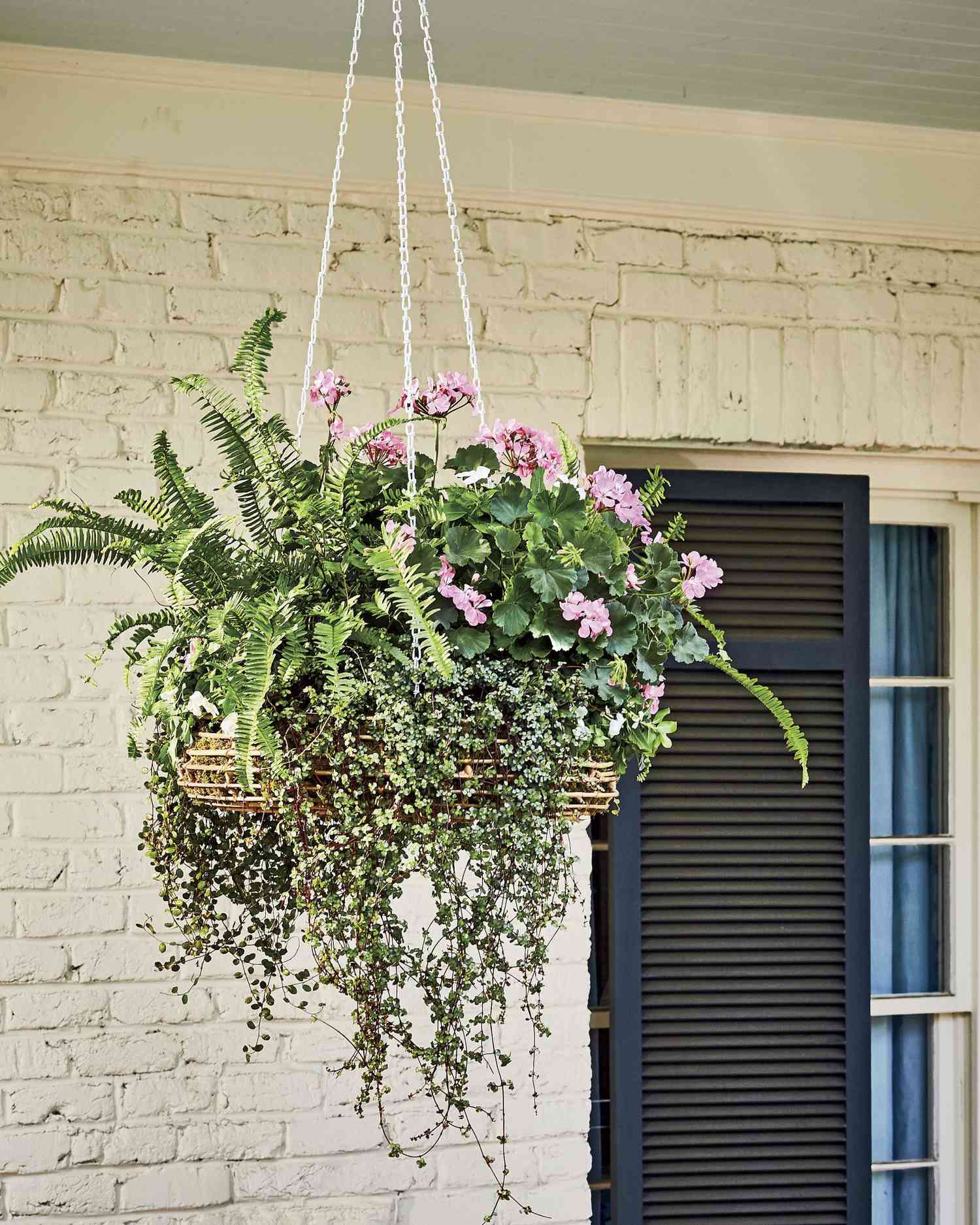 «Kimberly Queen» fern and the sweet blooms of this pink geranium reach for the rafters, while «Aqua Marine» pilea trails from the moss-filled basket. Pilea is a tropical perennial that can handle temps in the 50s. Bring your basket indoors at night on cold nights.
Add Seasonal Color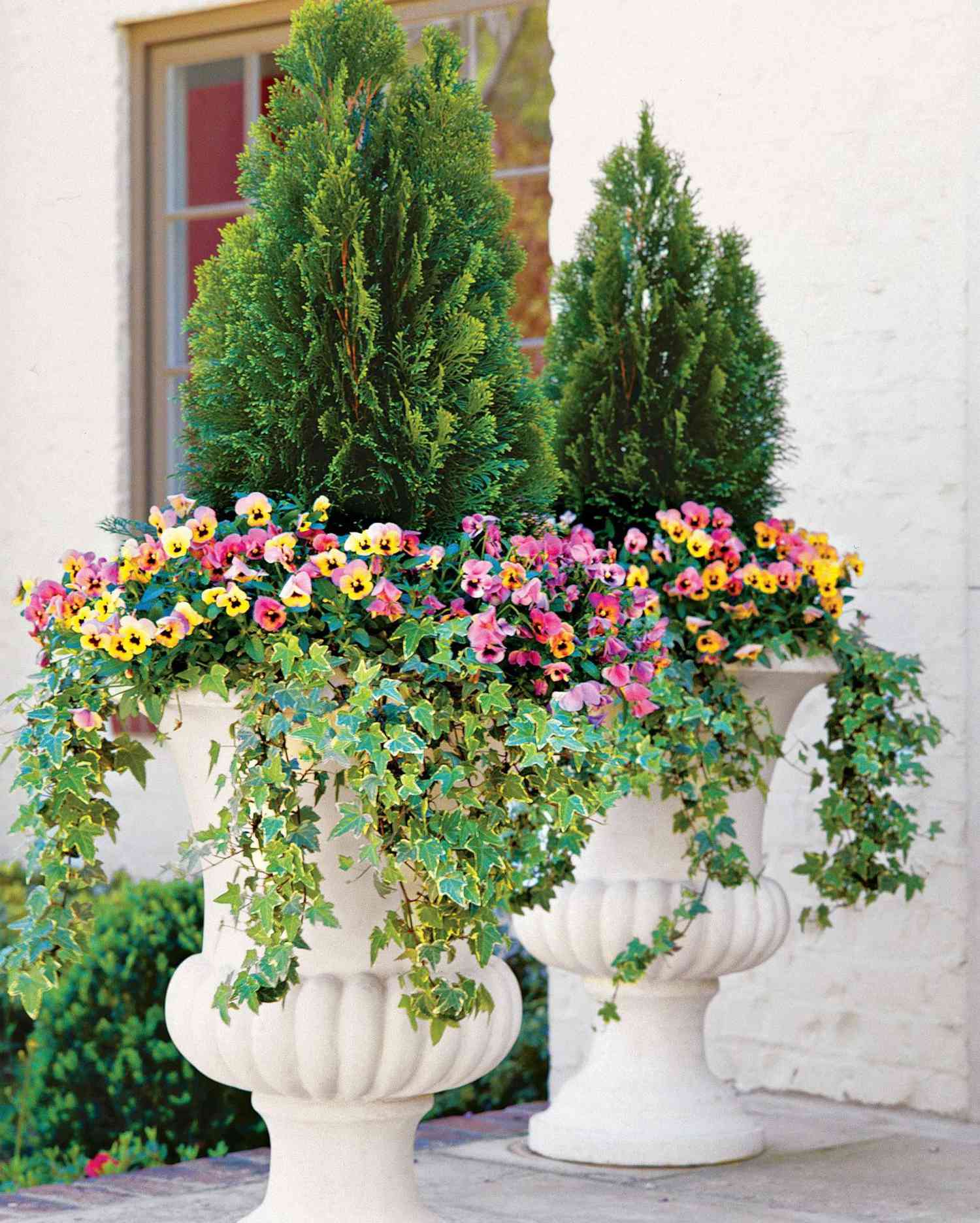 The evergreen arborvitae in these large urns can be updated each season by swapping in new annuals. A multi-colored mix of pansies provide springtime flavor. Replace with heat-loving annuals when the weather warms up.
Add Rustic Charm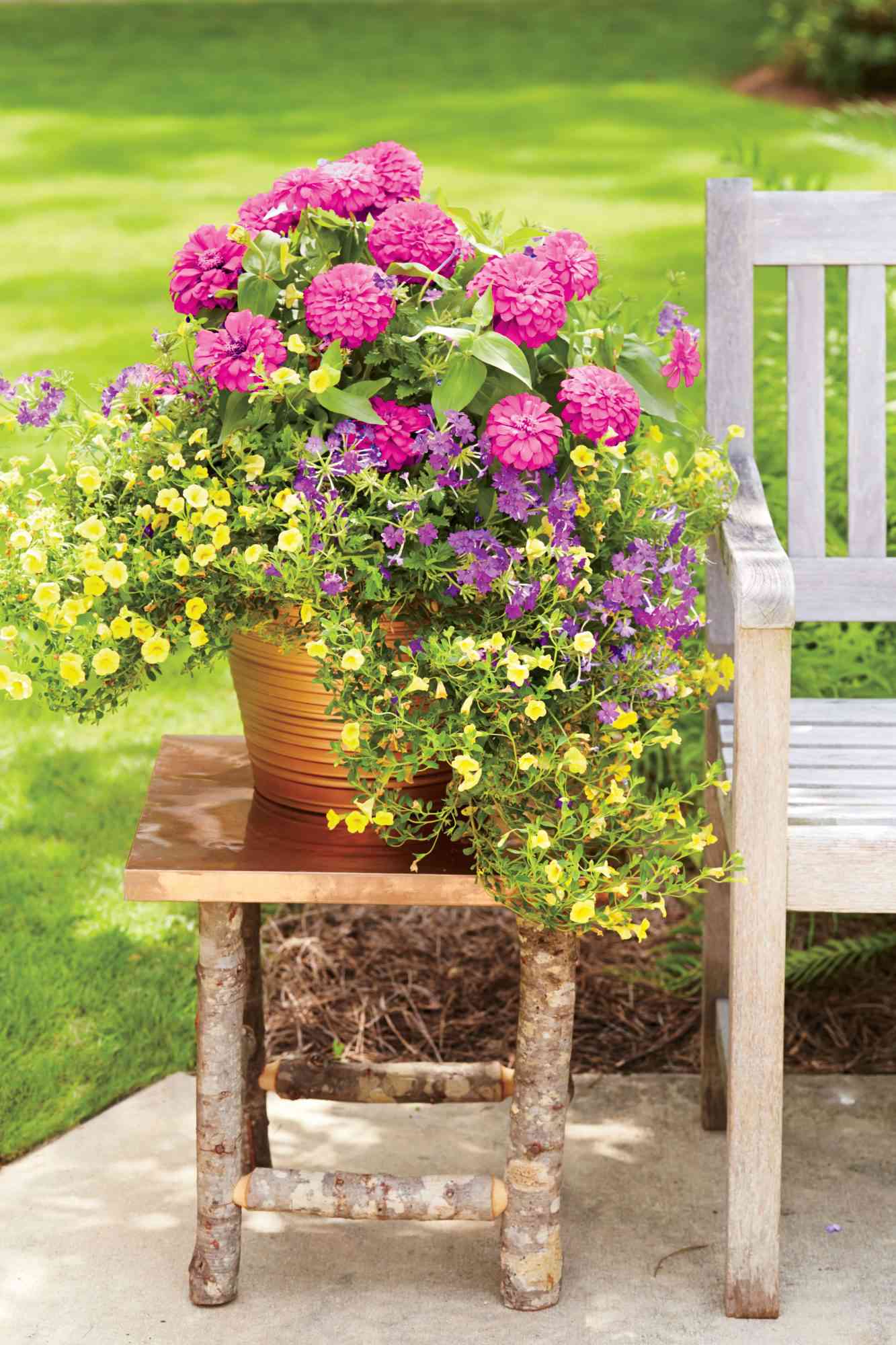 A simple planter feels right in a rustic setting. The informal tangle of pink zinnias, yellow calibrachoas, and purple verbena make this patio a charming spot to sit. These plants will bloom best in full sun.