Pamela Scurry's garden on Anson Street is an oasis. As historic and formal as it is beautiful and welcoming, it's made up of distinct rooms that extend the home's interior living areas into the backyard. The three-story Greek Revival features a garden that was originally drawn up by Loutrel Briggs, a noted Charleston landscape architect. Landscape designer Sheila Wertheimer brought those plans fully to life and now, Scurry (an interior and garden designer who has made this property home for four years with her husband, Richard) continues to embrace the classic elements while adding her own style. The landscape uses many Southern-favorite plants, including azaleas, camellias, and dogwoods while also incorporating elements that can change with the seasons. Today, the space celebrates its Lowcountry charm and formal features and offers an accessible, inviting place for outdoor entertaining.
Emphasize Architecture
Lush plantings of star jasmine frame a piazza fountain and provide a foundation of greenery that helps accentuate the airy second- and third-story porches on this distinctive home.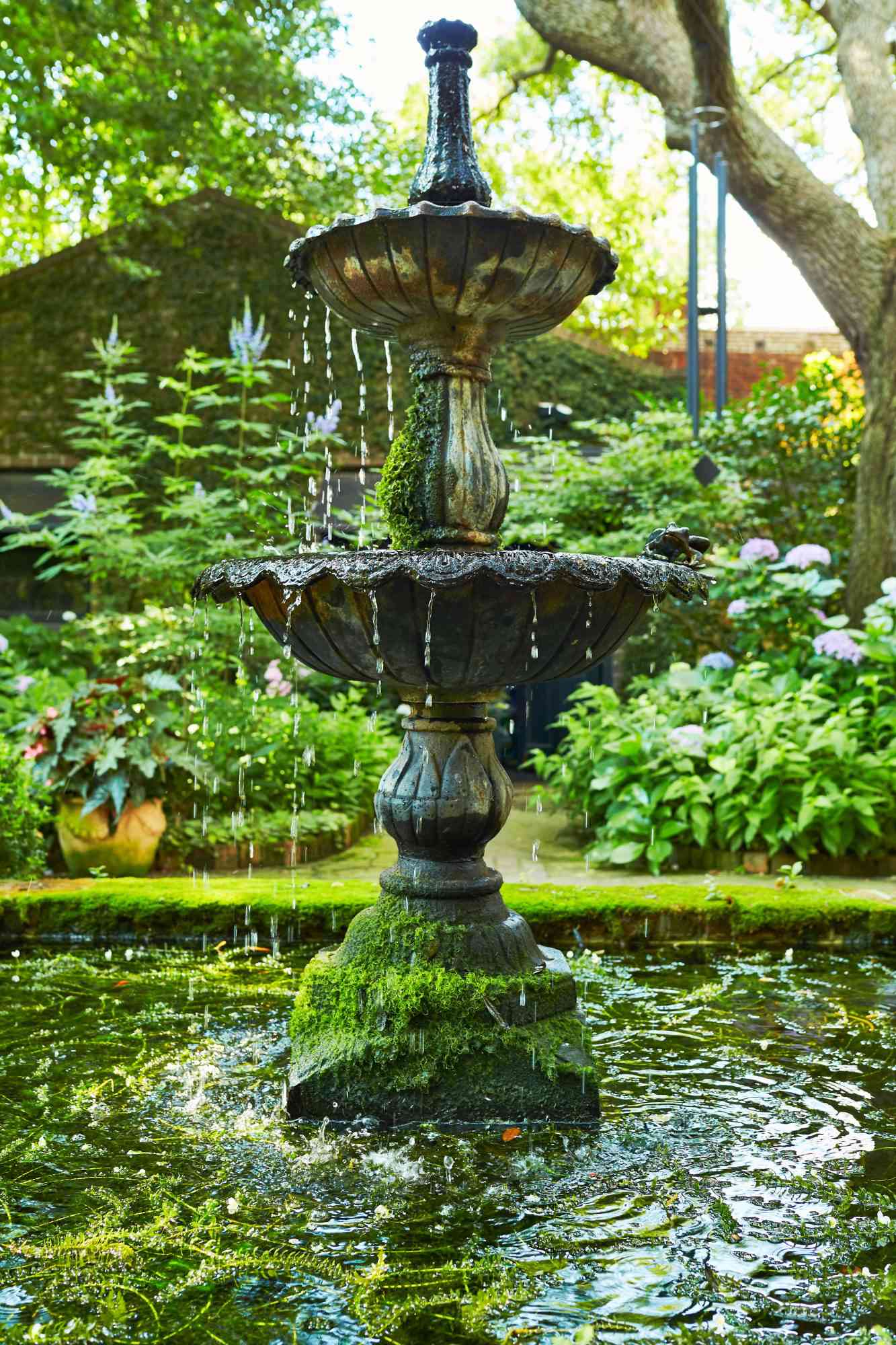 Cultivate Foundation Plantings
The property is filled with potted plants and antique statuary as well as established vines, shrubs, and trees. These include «Lady Banks» roses (Rosa banksiae), tea olives (Osmanthus fragrans), flowering dogwoods (Cornus florida), French hydrangeas (Hydrangea macrophylla), and common camellias (Camellia japonica).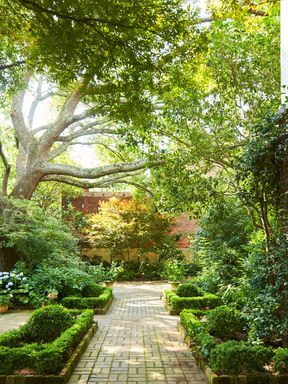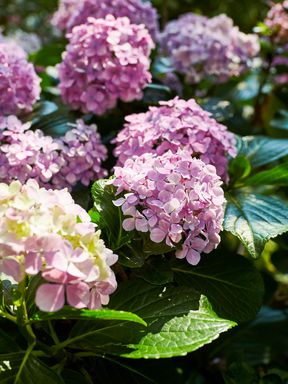 Highlight Focal Points
The garden rooms are home to a pair of matching fountains. The pieces mirror each other, lending continuity to the spaces and serving as visual points of interest. Briggs was noted for his use of water features in his designs for Charleston, and Scurry sourced two fountain toppers that acknowledge that history while adding elements of movement and sound.
Design a Warm Welcome
The home's porches serve as transitional spaces between the indoor and outdoor living areas. They look out over the formal garden rooms and offer both an entry point for taking in the beauty as well as an ideal place to dine alfresco while enjoying breezes blowing in from the harbor. An array of pots lends seasonal opportunities for rearranging and replanting.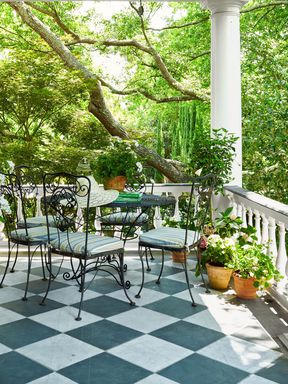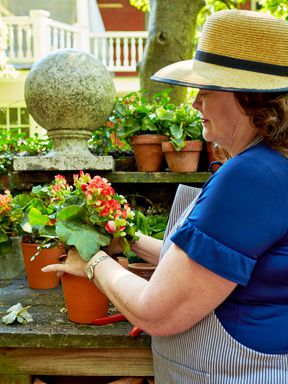 Embrace the Unfolding
Carefully tending to both the established plants and new additions means the Anson Street garden is always in a state of flux. Scurry welcomes the changes and looks forward to celebrating its history, treasuring its present, and shaping its future for years to come.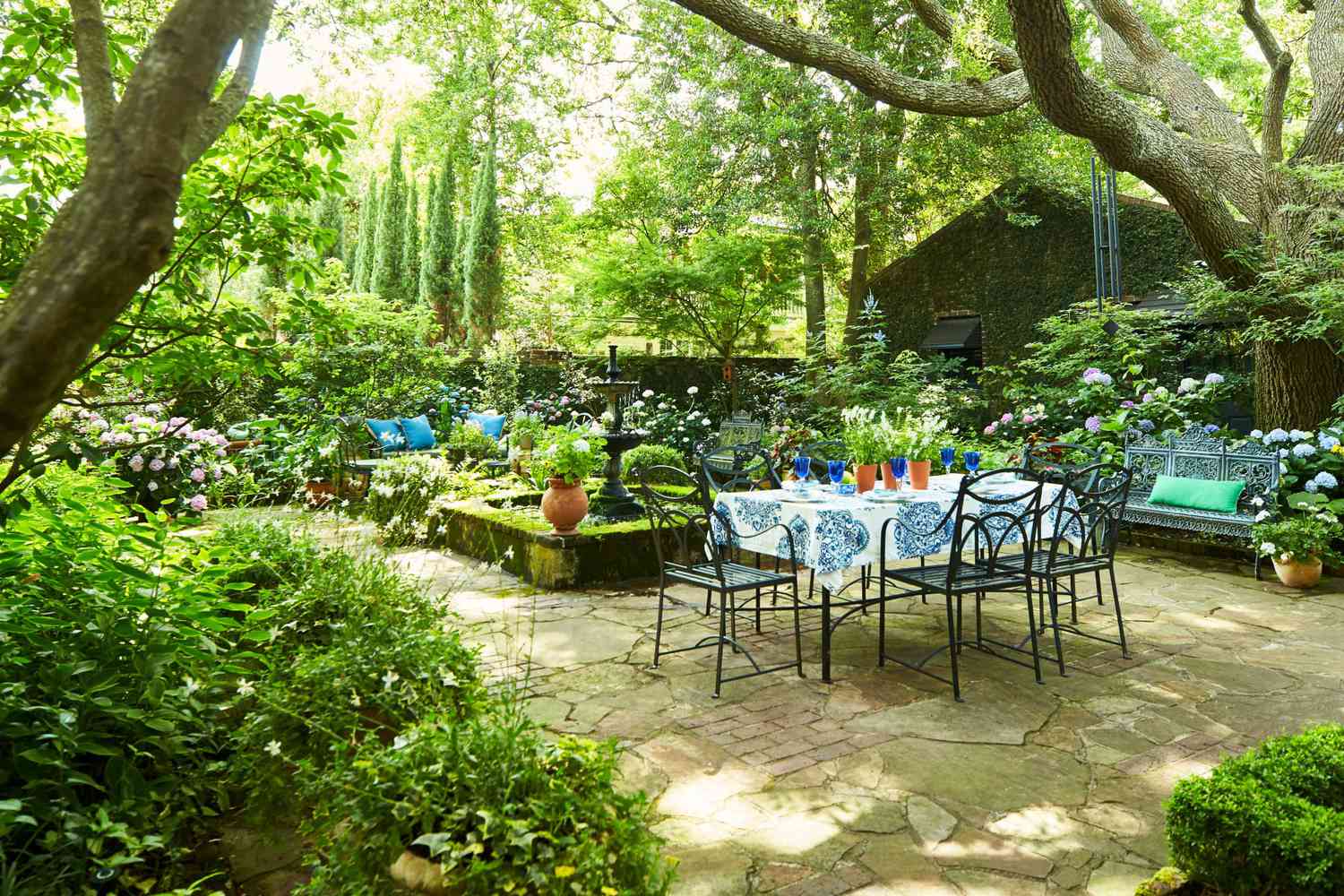 Entertain with Ease
Scurry enjoys the versatility of the space and regularly uses it for hosting. The furniture in the garden—both the sets and single pieces—can easily be moved, reconfigured, and accessorized to accommodate guests for occasions both large and small. With an abundance of places to enjoy a leisurely visit, each corner of the green retreat in historic Ansonborough is an invitation to sit and stay awhile.